Elton John's 2001 Oscars Party Was a Hot Mess (In the Best Way)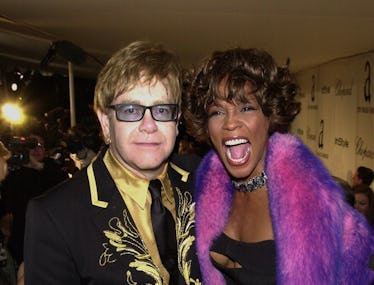 The ongoing pandemic means that this year, there won't be quite as raucous of an Oscars post-party circuit. Vanity Fair canceled their famed batch in lieu of a live-streamed series of "cocktails hours" instead. Though, if you hadn't noticed, Oscar parties aren't quite what they used to be. Or at least, the photos of them aren't. In recent years, two of the after parties have been hosted by Madonna and Beyoncé. Each implement a "no photos allowed" rule (with only a few notable exceptions). That means the stars can let their hair down, kick off their shoes, and not have to worry about getting caught off guard by a rogue party pap. Twenty years ago, that wasn't the case. Elton John's annual bash (which he still hosts) was one of the hottest tickets in town, and photographers had free rein over the event.
From the looks of it, his 2001 edition of the party was an absolute hot mess—and we mean that in the best possible way. Where else could you spot Whitney Houston, John Waters, and Pamela Anderson at the same event? Some of that year's Oscar winners, like Russell Crowe, showed up, but they hardly seemed to be the life of the party. In fact, no one seems to have had more fun than Leann Rimes and '90s teen heartthrob Andrew Keegan, who were dating at the time.
In the words of Saturday Night Live's Stefon, this party had everything...