Emily Ratajkowski Says She's "Not Thinking About Guys" Following Harry Styles Smooch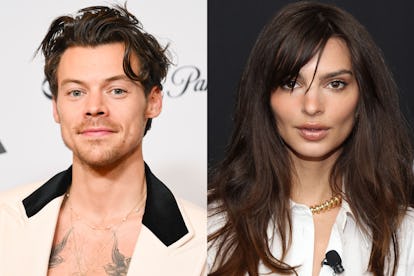 Michael Buckner/Variety via Getty Images/Taylor Hill/Getty Images
Many Harry Styles (and probably some Emily Ratajkowski) fans have been waiting with bated breath to learn more about what is going on between between the pair after they were seen locking lips on the streets of Tokyo last month. Are they dating? Was it a one time thing? What does Styles' ex and Ratajkowski's friend, Olivia Wilde think about all of this? Well, we finally have a bit of an update, as Ratajkowski just spoke about her current dating status, and seemingly referenced the headline-making moment.
A journalist for the Los Angeles Times spoke with Ratajkowski both before and after the kiss in question. She first talked to the model ahead of the Versace show in Los Angeles at the beginning of March. Ratajkowski said she was "really just not thinking about guys" at that moment, a result of being tired from her other commitments. "I'm working, I'm a single mom. I've been so busy that it's easy not to think about," she said.
Of course, a few weeks later and she was in Tokyo with Styles. Following the incident, Ratajkowski sent a voice note to the reporter for an update. "There's a million insane, inaccurate things about my relationships [that are said]," she said. It seems most likely, Ratajkowski was referring to the rumors started by Deuxmoi that she and Styles once engaged in a bit of a tryst with Wilde, though she didn't mention it explicitly.
Despite the clear update in her dating life, Ratajkowski was adamant that nothing had changed for her. "I'm definitely still not thinking about guys," she said. As for the incident with Styles' though, the model laughed, "Although, yeah. You know, sometimes things just happen." It seems like the Styles kiss was a bit serendipitous, but at least for the moment, Ratajkowski is not looking to view it as anything more than that.