Harry Styles & Emily Ratajkowski Have Actually Been "Friendly for a While"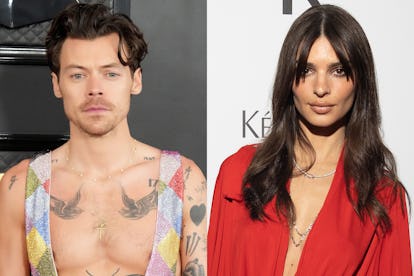 Jeff Kravitz/FilmMagic/Marc Piasecki/WireImage)
If you've found yourself on any form of social media in the past few days, you're likely already aware of the fact that Harry Styles and Emily Ratajkowski were spotted locking lips over the weekend. In photos published by the Daily Mail, the model and singer can be seen making out while standing on the street in Tokyo, seemingly unbothered by the public nature of their hook-up. While the match came as a surprise to some, it really shouldn't have. Styles and Ratajkowski have actually been connected for quite some time, and Styles has even had his eye on the model for years.
According to People, Styles and Ratajkowski "know each other" and "have been friendly for a while." After the photos of Styles and Ratajkowski went public, an old video came to light of Styles actually admitting his interest in the model all the way back in 2014. During an interview with the Mexican television network Telehit, Styles, who was still in One Direction at the time, was asked about his celebrity crush. "For me, Emily Ratajkowski from Gone Girl," he said, (also mispronouncing the model's name in the process). It only took a decade, but it seems his dream has finally been realized.
The kiss between Styles and Ratajkowski comes not long after the model ended things with comedian Eric Andre. The two dated very briefly before parting ways last month. Styles, meanwhile, ended his relationship with Olivia Wilde last November and has been linked with a handful of women since, though Ratajkowski is absolutely the most well-known of his post-breakup flings, hence why the news has become unavoidable on the Internet. As of now, it's unclear whether a relationship will stem from this kiss, or if it was simply a one-time thing. Ratajkowski has said that she's not looking for anything serious. "I've been trying to casually date and not get booed up, not get cuffed up," she said on a recent episode of her podcast, High Low With Em Rata. Of course, one kiss could make all the difference—and this one with Styles did look pretty steamy.