The Women of Friends Reunited and Dusted Off That Sparkling Comic Chemistry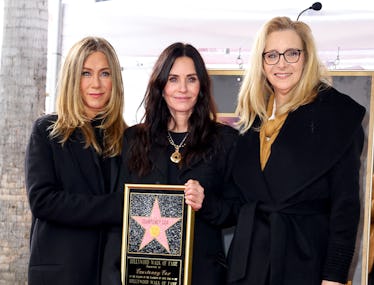 Photo by Leon Bennett/Getty Images
We can rest easy knowing that the women from the cast of Friends have remained, well, actual friends, almost 20 years after the show ended. Still, it's always nice to get a public reminder of that fact. So when Courteney Cox was awarded her star on the Hollywood Walk of Fame yesterday, Jennifer Aniston and Lisa Kudrow were by her side. It turns out "i'll be there for you," wasn't just a line in the theme song.
The timing of Cox's honor was likely to help promote the next installment of her other culturally definitive '90s franchise (she returns to cinemas as Gale Weathers in Scream VI next weekend), but it was the Central Perk gang who helped her claim her spot on California's most famous sidewalk. Aniston and Kudrow gave a joint speech, in which they credited Cox as the member who really made sure the Friends cast felt like family.
"To be friends with Courteney is to be family with Courteney," Aniston said during her speech, according to People.""She is responsible for all of that. From the beginning of when we met her, she was immediately inclusive, warm, loving, interested in everything about you."
Cox, as Aniston pointed out, already had the most established career when they were all cast in the NBC sitcom. She had appeared in an iconic Bruce Springsteen music video, along with a recurring part of the sitcom Family Ties and her co-starring role in the surprise box office hit Ace Ventura: Pet Detective had already hit theaters by the time Friends started shooting. But it was Cox who made sure everyone in the cast felt like equals.
"We do have to take care—and she instilled into all of us, into our DNA, to support each other and to love one another," said Aniston.
"Courteney, we just want to say that we're deeply, deeply proud to know you. You are the definition of truly beautiful and talented, and, what's most important, a truly good and decent human being," Kudrow added.
The trio also proved they still have that crackling comedic chemistry, making jokes about Cox's neat-freak ways (a trait that she apparently shares with Monica Gellar), their age, and Cox's past side-hustle as a house flipper.
The trio was dressed in matching black for the unusually frigid Southern California day. But they weren't alone—Laura Dern, Cox's personal friend with whom she recently got matching tattoos, was on hand for the celebrations, too. As was Cox's 18 year-old daughter Coco Arquette and Cox's partner of 10 years, Johnny McDaid, the pianist from Snow Patrol. Notably missing? Prince Harry, who recently claimed he once did mushrooms at Cox's house—but perhaps his absence isn't a surprise. Cox herself isn't really sure about the details of that story, anyway.