Gisele Wishes Tom All The Best On His "Next Chapter" While She Forges Her Own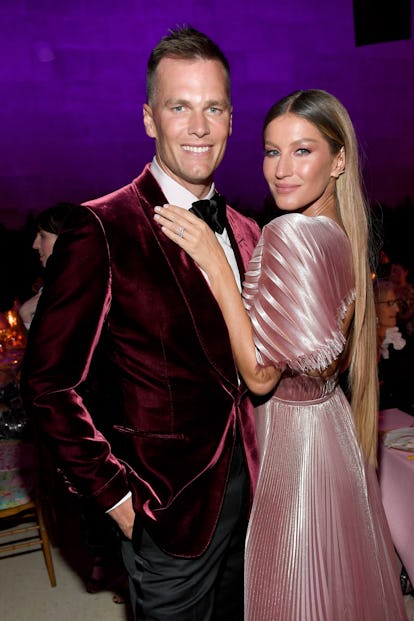 Kevin Mazur/MG19/Getty Images Entertainment/Getty Images
Three months after they filed for a divorce, it seems like an appropriate time to get an update on what's going on between Gisele Bündchen and Tom Brady. While it's been a short time, the former pair have experienced career switch-ups, comebacks, and even some back-and-forth public messages between the two. Here's a look at where the exes stand now.
After allegedly putting her modeling career on hold for Brady, Bündchen wasted no time jumping back into the industry following her split. Earlier this month, the model was one of several major faces to front Louis Vuitton's Yayoi Kusama collaboration campaign, and she has spent the last week or so shooting in Miami. In photos you can see on People, the model showed off various unique bathing suit looks in what could be another campaign for a brand. "She is supercharged about her career in the next few months," a source told People. "She is busy making decisions and feels happy and more settled than she has in a long time."
Brady has been making some career moves of his own lately. On Wednesday, the football player announced he is retiring from the sport "for good," in a video on Instagram. Of course, Brady made a similar announcement exactly a year ago, only to change his mind just 40 days later, a decision that reportedly caused some of the conflict in his relationship with Bündchen. Seemingly, though, Brady realizes the fairly ridiculous nature of his double retirement. "I know the process was a pretty big deal last time, so when I woke up this morning, I figured I'd just press record and let you guys know first," he said in the video. "I won't be long-winded. You only get one super emotional retirement essay, and I used mine up last year, so really thank you guys so much to every single one of you for supporting me."
But as they say, when one door closes, another opens, and Brady's (second) retirement came just a day after he walked the red carpet at the premiere of the upcoming film, 80 for Brady, in which he plays himself. When asked by Variety if he was interested in acting more in the future, Brady responded, "I would like that. I had fun." According to one of the film's stars, Lily Tomlin, Brady is a natural. "He's like Gary Cooper. He's like Jimmy Stewart," she said "He's like all those old-timers. He's got that kind of appeal." The movie's director, Kyle Marvin, praised the ex-footballer as well. "He was great," He said. "I think the hardest thing about acting is pressure, dealing with the pressure of showing up and having all these people around you. He has really good experience with pressure. Something that would be daunting to all of us, he's like, 'Let's go. That's fine.'"
Bündchen, meanwhile seems to remain supportive of her ex, and took the time to comment on his retirement announcement, writing, "Wishing you only wonderful things in this new chapter of your life."
According to Page Six, the model is preparing to break her silence about the relationship in an upcoming Vanity Fair cover story, and many believe it may be related to the recent shoot in her new homebase of Miami. If this story does come to fruition, hopefully she won't skimp on the details, and reveal everything we want to know about Brady's first "retirement," putting her career on hold, and being forced to live in Tampa Bay.