Gwyneth Paltrow Also Forgot Scarlett Johansson Was Married to Ryan Reynolds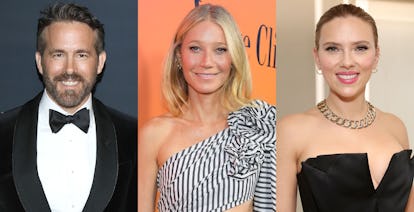 Jeremy Chan/Getty Images/Charley Gallay/Getty Images for Veuve ClicquotMonica Schipper/Getty Images for David Yurman
If you completely erased Scarlett Johansson brief marriage to Ryan Reynolds from your mind, you're not alone. Gwyneth Paltrow also totally forgot about the union, which made for quite the funny moment when the two actresses were discussing Johansson's former and current spouses on a recent episode of The Goop Podcast.
"You've been married two times?" Paltrow asked her guest, who then corrected the host. "Three times."
"Oh that's right, because I forgot that you were married to Ryan Reynolds! Goals!" Paltrow responded. "Yes," Johansson said with a laugh. "We weren't married very long," though she did note that they were together when Johansson and Paltrow first met on the set of Iron Man 2.
Despite the divorce, Johansson had nothing but good things to say about her ex on the podcast, though she did keep it brief. "We love a good Ryan Reynolds in our house," Paltrow said, with Johansson agreeing, "He's a good guy."
In case you needed a reminder yourself, Johansson and Reynolds were first connected in 2007 and got engaged a year later. They married in September 2008, but by December 2010, they made the decision to go their separate ways, and the divorce was finalized in July 2011. Reynolds, meanwhile, met Blake Lively on the set of Green Lantern in early 2010 and married her in September 2012. The two would go on to welcome four children together, the youngest of which came earlier this year. Johansson, meanwhile, married and had a kid with French journalist Romain Dauriac, before divorcing him and later wedding Saturday Night Live's Colin Jost, with whom she has a son.
Johannson spoke a little about her relationship with Jost on the podcast. "It's funny. I knew Colin for a long time, but only kind of through work," she said, explaining that she hadn't been previously ready for a relationship like the one she now has with Jost. "I wasn't comfortable with setting my own boundaries, and I didn't know what I wanted or needed from somebody else." She continued, saying she learned of the "fundamental characteristic" she needed in a partner, like compassion. "That's why it worked with Colin and I," she said. "I was finally able to step back and actually respect myself enough to know what those [fundamental] things were and be okay with it, you know? That was a life lesson."