BABY (NO LONGER) ON BOARD
Did Blake Lively Just Make the Most Casual Birth Announcement of All Time?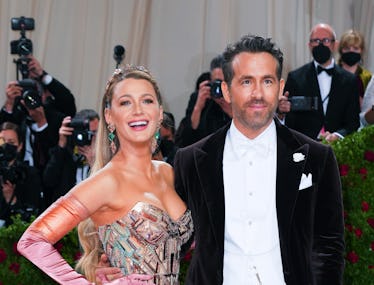 Gotham/Getty Images
On the scale from vlogging labor live to secretly giving birth after hiding your pregnancy for nine months, Blake Lively and Ryan Reynolds lie somewhere in the middle. The couple is fairly private, with a history of Lively debuting her bumps on red carpets before returning to her New York abode to enjoy the remainder of the pregnancy off Instagram. It came as little surprise then, when on Sunday, the previously-pregnant actress shared a photo, and poof—her baby bump was suddenly gone with absolutely no notice.
The last time we saw Lively was in November, at the American Cinematheque Awards where she was very much pregnant. In a photo from her Super Bowl celebration, however—which also featured Reynolds and his mom, Tammy—the actress wore a black halter tank top and a pair of cropped jeans, decidedly not with child. So, what could that mean other than she gave birth to her fourth child with Reynolds? Of course, the Instagram didn't make note of the exciting news, but instead focused on her meal prep for the day. "Puppy Bowl Sunday 2023," she captioned the set of images, which also featured some of the food she prepared for the occasion. "Been busy." Despite the lack of acknowledgment, most are taking the photo as a birth announcement, and sharing their congratulations in the comments.
Lively and Reynolds already share three daughters together, Betty, 3, Inez, 6, and James, 8. Lively first revealed she was pregnant with the pair's fourth child at the Forbes Power Women's Summit last September. In a recent interview with Entertainment Tonight, Reynolds revealed that his daughters are "ready" for the newest addition. "They're in. They love it," he said, adding that he too is very excited for another child. "We'd have to be. You know, you'd have to be a moron to do this four times if you didn't like it. It's gonna be nuts, but we're very excited."
Now that Lively has given birth, she has some show business projects on the agenda. The actress was recently cast in the film adaption of Colleen Hoover's 2016 romantic novel It Ends With Us. Plus, it was revealed last year that her 2018 film A Simple Favor will be getting a sequel, and while there isn't a definitive timeline for that project, it could realistically begin production this year. That means either Reynolds is taking some time off, or Tammy is about to have her hands full.