Jennifer Coolidge Enlists Help For Her TikTok Debut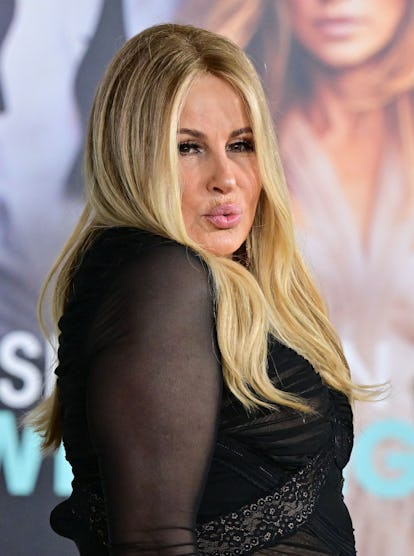 FREDERIC J. BROWN/AFP via Getty Images
The current reigning queen of the Internet is looking to expand her kingdom, so on Thursday, Jennifer Coolidge made her debut on TikTok and, of course, she's already making her mark on the platform.
"Hi, this is my first TikTok," Coolidge said in a selfie-style video. The actress looked done up, wearing a low-cut black dress (a style quickly becoming her signature) while standing in front of a green screen. "I was trying to think of something cool to do and I think I'm just going to do a poem that I like," she said. Coolidge then began to recite the beginning of the chorus from Jennifer Lopez's "Jenny from the Block" in a slam poetry style. Once done, Coolidge panned the camera over to who else, but Lopez herself, who seemed very impressed by the performance.
"I like that," Lopez said. "I really really like that." One more pan back to Coolidge, who gave her signature pursed lip look, and a new TikTok star was officially born.
The Jennifers are currently together promoting their new film, Shotgun Wedding, in which Coolidge plays Lopez's future mother-in-law. The pair linked up at the premiere after party on Wednesday night where they were also joined by Lopez's husband, Ben Affleck.
Of course, Coolidge's one-liners make for almost guaranteed success on TikTok. Her role in The White Lotus has already spawned many memes on the platform, including a club remix created from her famous line from the finale, "Please, these gays! They're trying to murder me." Coolidge even performed a snippet of the song during an interview with Variety at the Shotgun Wedding premiere. "At a lot of these nightclubs, it's the last song of the night," she explained. Of course, Coolidge revealing her dream role is to play a dolphin following her Golden Globes win earlier this month is making rounds on the platform as well, and now that the actress officially has an account, the possibilities of virality are endless.