Katie Holmes and Jamie Foxx, the World's Most Elusive Celebrity Couple, Were Spotted Canoodling at a Pre-Grammys Party
Yes, they were together in public!
---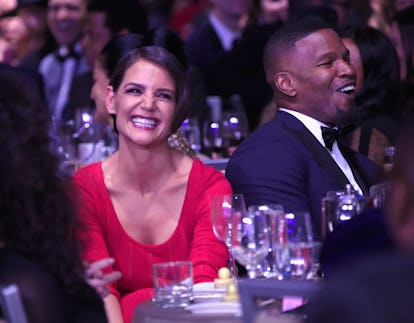 Kevin Mazur
Jamie Foxx and Katie Holmes, the elusive celebrity couple that's been together since 2013 and that everyone knows about even though they never talk about it and have only been photographed together, like, twice, took a huge step this weekend when they attended a pre-Grammys gala (the Clive Davis and Recording Academy Pre-GRAMMY Gala and GRAMMY Salute to Industry Icons Honoring Jay-Z) together. Like, in public. Like, on an actual date, like a couple. And it was so cute! They whispered, they smiled at each other, they smiled at other people, they laughed, they cuddled.
As the Daily Mail put it, "For years they had insisted they were 'just friends' until recently when they were pictured holding hands in public for the first time while they strolled on the beach. It has been claimed Katie's ex-husband Tom included a clause in her 2012 divorce settlement banning her from publicly dating for five years." Well, whatever statute of limitations was on their relationship has clearly expired, because if these pictures don't say "couple," we don't know what does.
Without further ado, a bunch of pictures of Katie Holmes and Jamie Foxx on a date:
Truly, one never knows where Katie Holmes will show up next. She keeps her daughter Suri well out of the spotlight, but then they (somewhat randomly?) presented Taylor Swift together at the Z100 Jingle Ball….I mean, Suri probably wanted to meet Swift, but still, who saw that coming? Holmes still works as an actress; she recently had a small role in Logan Lucky, and has branched out into directing as well. And next, she's going to star in a movie version of The Secret, that book about harnessing the power of vision boards.
It sounds interesting, but it's not the secret we care about, Katie. We want more of you and Jamie!