Kendall Jenner and Hailey Bieber Ended Their "Feud" While Kim Kardashian Starts Another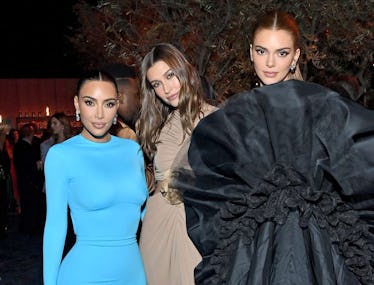 Stefanie Keenan/VF22/WireImage for Vanity Fair
Everyone, exhale—Kendall Jenner and Hailey Bieber confirmed that they are not feuding. After murmurs surfaced last week that the pair had been avoiding each other, Bieber took to Instagram to quell the rumors. On Monday, she posted a story of her and Jenner tanning, captioned, "Feuding" with two heart emojis.
The rumors came to fruition last week when Jenner and Bieber were both in the South of France attending the Monaco Grand Prix. According to The Sun, fans spotted the pair in the same city, with their mutual friends, but without each other—gasp!
Jenner was, reportedly, spending time with Simi and Haze Khadra and her rumored romance, Bad Bunny. Bieber hung out with musician Justine Skye (whom Kendall is also close with), as well as Kendall's ex-boyfriend Devin Booker. While fans speculated that the pair was growing distant in recent months (some say, possibly, due to Hailey's saga with Selena Gomez), Bieber's Instagram story puts those rumors to rest—for now, at least.
Elsewhere, though, Jenner was also the subject of some more shade from an unexpected source. Well, sort of. On Monday, North West posted a seemingly adorable TikTok of her mother, Kim Kardashian, helping with her hair routine. But upon further inspection, the beauty mogul's graphic T-shirt looked like it might have been taking a slight dig at Kendall.
Kim's shirt featured Kendall surrounded by images of Jordan Clarkson, Blake Griffin, Ben Simmons, Kyle Kuzma, and Devin Booker—all previous boyfriends of the supermodel and all players in the NBA. The shirt read, "Kendall's starting five," hinting at the five players needed to make up a starting line of a basketball team.
The shirt is likely an inside joke between the sisters, but this isn't the first time Kim has worn it. During the trailer for season 3 of The Kardashians, she was spotted for a few seconds wearing the piece (though the faces of Jenner's past romances were blurred out).
The Hulu series' latest season premiered at the end of May, and dives into the drama and headlines surrounding the Kardashian and Jenner bunch—business, motherhood, and, of course, romances. But as the season is only moving into its third episode, we've yet to see if Kendall approves of Kim's wardrobe choice.