Kendall Jenner Wears a Legally Blonde-Inspired Bikini in Cannes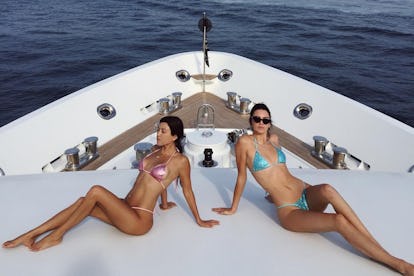 kendalljenner/Instagram
The CannesFilm Festival is almost as much about fashion as it is about movies—and Kendall Jenner managed to combine both in her most recent look on the French Riviera.
The supermodel member of the Kardashian-Jenner clan posted a photo to Instagram Thursday, May 25th, of herself and older sister Kourtney Kardashian catching some sun on the deck of a yacht. Jenner wore a turquoise, sequined triangle bikini, and Kardashian wore a pink version—both of which look as if they were ripped straight from the set of Legally Blonde.
In case you've forgotten Reese Witherspoon's 2001 film, her character Elle Woods dons a bright pink sparkly swimsuit on several occasions, including in her video admissions essay for Harvard Law School as well as to cheer on ex-boyfriend Warner at football practice. Woods is also spotted floating in her sorority house's pool in a turquoise version. Jenner clearly hasn't forgotten the iconic movie, despite being 6 years old when it premiered, as she captioned her Instagram photo with "Legally Blonde vibes."
And now, here's Woods's original bikini for comparison.
Upon intense social media analyzation, the swimsuits look nearly identical. (Though technically speaking, Witherspoon's pink is a slightly brighter hue than Kardashian's, but Millennial seem to always have a preference for softer shades of pink anyway) Legally Blonde isn't the only movie Jenner is drawing fashion inspiration from lately. She recently opened up to W about her love of The Matrix—and how the recent collection for Kendall + Kylie features plenty of latex and a Matrix-esque pair of cat-eye sunglasses. "It's incredible; I can watch it again and again," Jenner said of the Keanu Reeves' film. She has yet to voice her opinion on Legally Blonde, though.
Related: See What Everyone Wore to the Cannes Film Festival
Kendall Jenner Gets Real: "I'm Weird, I Love My Tits Being Out"