Kourtney Kardashian (Practice) Married Travis Barker in Vintage Versace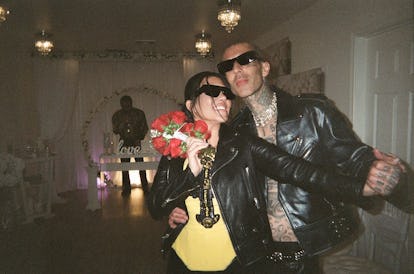 Instagram/@kourtneykardashian
Update 4/6/22, 2:30 p.m.: Not long after it was reported on Tuesday that Kourtney Kardashian and Travis Barker followed up their Grammys date night with a trip to a Las Vegas wedding chapel, news started coming in that, while the pair did meet with an Elvis officiant on Sunday night, nothing about the ceremony was legal. Apparently, the couple arrived to the chapel without a marriage license, but they went on with the charade anyway. On Wednesday, Kardashian confirmed this when she shared some pics from the late night festivities.
"Found these in my camera roll," Kardashian captioned the photos on Instagram. "Once upon a time in a land far, far away (Las Vegas) at 2am, after an epic night and a little tequila, a queen and her handsome king ventured out to the only open chapel with an Elvis and got married (with no license). Practice makes perfect."
In the photos, Kardashian and Barker seem very much in love, wearing matching leather jackets and sunglasses—Barker's both from Enfants Riches Déprimés—as they stand in front of Elvis. While Barker opted to go shirtless under his jacket, Kardashian wore a corset from the Versace fall/winter 2012 ready-to-wear collection for the big moment, a yellow top with a subtle structured peplum and a giant cross on the front.
So, the pair isn't married quite yet, but something tells us this is just the beginning of Barker and Kardashian's wedding antics. And if we know the bride's famous fam, the real wedding will being wholly over-the-top, enough to rival the royal-level extravaganza taking place this weekend in Florida between Brooklyn Beckham and Nicola Peltz.
Original post: That's Mrs. Travis Barker to you. After years of watching her younger sisters walk down the aisle, Kourtney Kardashian is reportedly a married lady herself. TMZ is reporting Kardashian and Barker held an after party of their own after the 2022 Grammys on Sunday night—a wedding. The pair reportedly took advantage of being in Las Vegas for the award show, and headed to a chapel following the event, where they said "I do."
According to reports, Kardashian and Barker got to the chapel at about 1:30 in the morning, wearing their clothes from the Grammys, with a marriage license in hand. They were met by an Elvis impersonator, and the chapel's owner, who acted as the couple's officiant and witness, respectively. Though she had a longterm relationship with Scott Disick, this is actually the bride's first marriage. It's marriage number three for the groom.
"I didn't know who it was until they pulled up," the One Love Wedding Chapel owner Marty Frierson told People. "I advertise as 24-hours but they wanted to make sure I was still there. They paid and they requested Elvis Presley, that was mandatory. I called back 5 minutes later and was like, I got an Elvis, and there they were." It's unclear if anyone from Kardashian or Barker's families were in attendance for the event. While none of Kardashian's sisters were at the Grammys on Sunday, Kendall Jenner did happen to be in Vegas over the weekend, promoting her tequila brand.
"They came, got married, tossed the bouquet in the driveway, and danced to Elvis," Frierson said. "They showed a lot love and had a lot of fun."
The newlyweds asked the chapel to not take pictures, but it seems like they did bring their own photographers along, though it's unclear if Hulu's film crew were in attendance as People reported no video was permitted during the ceremony. The Kardashian's love a good wedding episode for their show, but according to TMZ this won't be their only chance to get Kardashian and Barker's wedding on video for the family's upcoming return to TV. Sources say last weekend's ceremony was far from the only event Kardashian and Barker are throwing for their nuptials, and there will be "several" other ceremonies in the future.
This article was originally published on 04.05.22
This article was originally published on