Lady Gaga Is Up to Her Old Antics, Making a Splashy Arrival at the Venice Film Festival Perched on a Boat
Some things will never change (even when the hair and makeup does).
---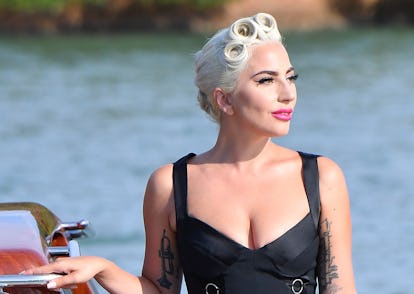 Jacopo Raule/GC Images
Her hair and makeup might be different these days, but Lady Gaga's antics are still the same. The pop artist, who is poised to have her best year ever with the impending arrival of her lauded film debut, A Star Is Born, made a splashy entrance at the Venice Film Festival.
Gaga didn't hop out of a car; she pulled up on the edge of a boat looking like a bastion of old Hollywood. Gaga, who can't resist a theme—see Artpop—wore a platinum pin-curled updo recalling 1940's pin-up star and actress Betty Grable. She paired the vintage-inspired beauty look, which included a red lip, strong brows, and a cat-eye, with a Jonathan Simkhai resort cocktail dress and black pumps. Gaga accessorized with a red rose she clutched as she waved and blew kisses to onlookers.
Earlier in the day, she paired the same hairstyle with an orange slip dress, aviator sunglasses, and one of the first up-close looks at Hedi Slimane's Céline debut: a structured black leather bag that matched her pumps.
Both looks are quite the pivot from Gaga's recent photo spree, which included a NSFW shoot with an octopus Beanie Boo. In the photos, Gaga wears the same platinum hair color but with heavy Pamela Anderson–inspired makeup and bondage gear. Her hairstylist shared those looks, as well as her latest from Venice, tagging her glamorous arrival "#makinganentrance."
It's notable, though, that Gaga's demeanor to promote A Star Is Born is so different from her stripped-down look in the film, where she wears natural makeup and goes back to her brunette roots. It was her director and costar Bradley Cooper who pushed her in that direction. Back in 2016 when the pair did a screen test at Gaga's Malibu home, Cooper's first move was to have her wipe off all her makeup so she could be "completely open. No artifice," as she revealed to the Los Angeles Times. "With it, he erased the colors from her forehead down to her chin," she said in a new profile that was released today. "It put me right in the place I needed to be, because when my character talks about how ugly she feels—that was real. I'm so insecure. I like to preach, but I don't always practice what I preach." Judging by the photos of her at the Venice Film Festival, though, her confidence is now at a high—and rightfully so.