Awards Season Kicks Into High Gear at the National Board of Review Gala
Steven Spielberg, Colin Farrell, Danielle Deadwyler, and many more won big at the low-key (but still star-studded) awards ceremony in New York City.
---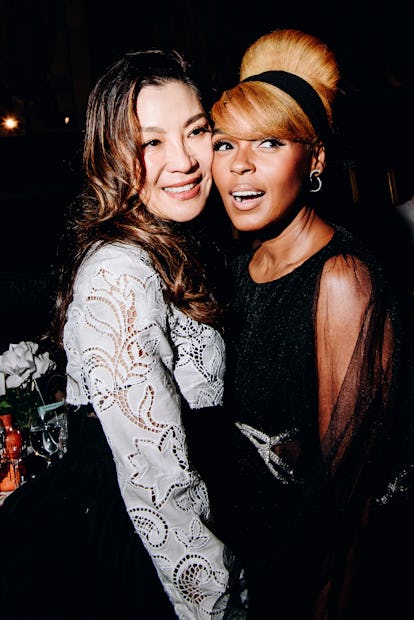 Photo by Nina Westervelt/Variety via Getty Images
There was a major traffic jam at Cipriani 42nd Street in New York City on Sunday, January 8, but the gridlock didn't take place on the streets of Manhattan. Instead, a crush of celebrities inside the Midtown venue had arrived at the National Board of Review Awards Gala, seemingly all at the same time, causing backup of the most fabulous order on the red carpet.
But the relaxed vibe of NBR—which isn't televised and announces its winners ahead of time—gave a friendly, low-stakes feel to what can be a stressful time of year for Hollywood's best and brightest. Everything Everywhere All at Once's Michelle Yeoh—who won Best Actress for the evening, the first Asian star in 45 years to receive the honor from NBR—embraced Steven Spielberg, winner of the Best Director honor for The Fabelmans, on the carpet, along with Ariana DeBose. Further down the line, Colin Farrell, who won Best Actor for his role in The Banshees of Inisherin, fielded request after request for interviews and selfies. Paul Dano caught up with Oscar Isaac; the two have been friends since Isaac starred in Dano's wife Zoe Kazan's play We Live Here in 2011. Janelle Monae, in a frothy, diamanté-studded Valentino gown (with tooth gems to match the sparkle), showed up alongside her Glass Onion: A Knives Out Mystery costar, Daniel Craig, who presented her the award for Best Supporting Actress.
Daniel Craig and Janelle Monáe
Photo by Nina Westervelt/Variety via Getty Images
Photo by Nina Westervelt/Variety via Getty Images
Danielle Deadwyler, winner of the Breakthrough Performance accolade after her turn as Mamie Till in Till, squeezed by Tamron Hall and Jenny Slate on the carpet. Although Deadwyler has been in the biz for years, appearing in The Harder They Fall in 2021 (for which she won an NBR Award that year as well), this is the first time the actress has been a major contender in the awards season conversation. The actress, who is currently working on action-thriller Carry On alongside Taron Edgerton and Jason Bateman, says she leaned into the importance of "quietude" while filming Till—a hard-earned lesson she'll take with her on future projects.
"This is the year that grace has been of the utmost significance to me," she said. "Because you have to be quieted—that's essential, so you can make intentional choices, be deeply purposeful and loving in the way that you talk to people and in the way that you consider your worth or balance your life. I got the battle wounds on the inside to prove it!"
Deadwyler's Breakthrough Performance male counterpart, Gabriel LaBelle, was talking all things Spielberg on the carpet. And why shouldn't he? The 20-year-old actor portrayed a younger version of the director in The Fabelmans. To get the full scope of Spielberg's early life, LaBelle said the two participated in weekly Zoom sessions. "We'd break down the script, and I'd talk to him about his childhood, his parents, the people in his life and his perspectives to really understand what he was going through back then," he said. "It was forced therapy, for him! Meanwhile, I was having the best time." As for Spielberg's directing style, "He's really hands-off," LaBelle added. "He will answer any question you ask him, but he will not talk to you on set unless you track him down. I had to track him down, because I'm playing him—but I was too scared to ask for his phone number!"
Inside the great hall, Sienna Miller, Kerry Condon, and Women Talking's Jessie Buckley settled into their seats. Farrell, who had so expertly evaded fans on the carpet, could not escape a group of six-or-so women who lined up to take photos with him. The acceptance speeches, which are not timed and therefore allow celebrities to give as many shout-outs as they want, are always a highlight at NBR. Isaac, who presented Martin McDonagh with his Best Original Screenplay award for The Banshees of Inisherin, recalled the first time he met the playwright. "I saw his play while I was still in acting school, and I thought, 'What sick, twisted fuck came up with this and when can I meet him?'" (The meeting, it turns out, occurred shortly thereafter, when Isaac and McDonagh were "sitting at a pub in London, tripping our balls off on magic mushrooms," the actor recalled with a laugh.)
But it was Yeoh's acceptance speech that swept the room up in emotion, culminating in a minutes-long standing ovation. "My real name is Yeoh Choo-Kheng," she said. "I was told I needed to take a Western name, so Yeoh Choo-Kheng became Michelle Yeoh. We were told it would make it easier to sell our films, to tell our stories to the rest of the world."
When Hollywood came calling, however, Yeoh said she had the chance to work with inclusive visionaries like Ang Lee on Crouching Tiger, Hidden Dragon—and that energy certainly didn't cease in Everything Everywhere. "The story resonates with audiences all over the world… because, in these times of turmoil and trouble, it is a movie about hope, about kindness, and family," she added, her eyes welling up with tears. "I hope Hollywood recognizes what a watershed film this is, and all the things I've stood for in my four-decade career. This award proves we can tell our own stories on our own terms, and embrace something as simple and as important as our given names."