We Missed Out On Prince Harry Hosting SNL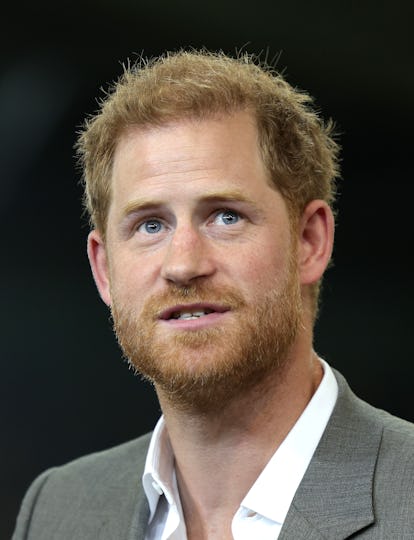 Chris Jackson/Getty Images for Invictus Games Dusseldorf 2023
Prince Harry proved he was willing to go to some great lengths to promote his memoir, Spare. Ahead of the book's release last month, the estranged royal did interviews, distributed juicy excerpts, and basically took over the Internet with his claims about Prince William, King Charles, and his late mother. Apparently, though, the Prince was willing to go even farther to sell copies. According to Page Six, Harry was reportedly interested in hosting Saturday Night Live ahead of his book's release, "but talks stalled at the 11th hour."
Now, it's unclear why this plan didn't come to fruition. A source claimed "Harry was all in," which is the least surprising part of any of this. The release of his memoir has proven that the Prince will do and say just about anything to stay in the public eye, from speaking about his frostbitten "todger" to throwing his family under the bus. Going on live TV, dressing up in costumes, and acting a fool? Harry likely would have taken to the task like a duck to water.
In the end, though, Harry had to settle for 60 Minutes and The Late Show with Stephen Colbert instead, and, of course, Spare' sales did not suffer. The book's first day sales broke the record for those of any nonfiction book ever published by Penguin Random House. And while Harry never got on SNL, the writers have had fun with his situation. Back in December, Steve Martin and Martin Short hosted the show and compared themselves to Harry and Meghan Markle in their opening monologue, saying, "no one's rooting for us, but you'll tune into watch anyway." Then, just last week, James Austin Johnson and Devon Walker appeared on "Weekend Update" as two British rappers and Harry's former Eton schoolmates. "Prince Harry, Prince Harry, stayed over at Tyler Perry's. Press cold like Ben and Jerry's. I'm allergic to dairy," they rapped. "Harry and Meghan, Ronald Reagan, interracial dating, Queen said, 'Not today, Satan.'"
And the SNL writers are hardly the only ones using Harry for joke fodder. At the Grammys on Sunday night, host Trevor Noah introduced James Corden as "living proof that a man can move from London to LA and not tell everyone about his frostbitten penis."
So, it's safe to say that had the Harry hosting gig panned out, there would have been a lot for the writers to go off, and considering the Prince's actions as of late, nothing would have been off limits. But while Harry's SNL moment didn't come to fruition ahead of his book launch, that doesn't mean it will never happen. Apparently, Lorne Michaels is still very into the idea of having Harry on the show, and the Prince showing up in a sketch in the future is not out of the question.