Sandra Oh Brought Her Parents to See Black Panther, and They (Surprisingly) Loved It
The star of Killing Eve weighs in on the first season's long-awaited faceoff and shares what she's been reading, watching, and listening to lately.
---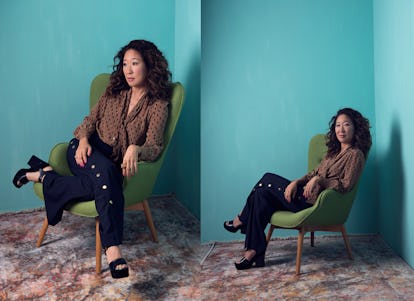 Spoilers for Killing Eve Episode 5 ahead.
When the BBC America series Killing Eve premiered last month, the most terrifying thing happening to Eve Polastri, the eponymous protagonist played by Sandra Oh, was falling asleep on not one, but both her arms; the most covert operation tasked to her, surreptitiously nibbling on a croissant during a staff meeting. But quickly, Eve was welcomed into the British secret service MI-6 and set on the scent of a notorious Russian assassin, Villanelle (The White Princess's Jodie Comer). That's to say, from the outset, Eve's relationship with her quarry has been personal— spy and assassin circling each other with equal parts wariness and attraction—and even more so since Villanelle murdered Eve's partner Bill at the close of the third episode, two weeks ago.
Still, Eve and Villanelle so far have not met face-to-face, have not spoken—but that changes during Sunday night's fifth episode. Last week, as an odd sort of penance for killing Bill, Villanelle sent Eve a suitcase—her own suitcase, previously stolen—full of designer garments, including an immaculately fitted black-and-white Roland Mouret cocktail dress. (There's a whole separate essay to be written about Killing Eve's costuming; in one early scene, for example, Comer wears a highlighter-pink Molly Goddard dress to a therapy session with her handler.) And in the latest installment, airing tomorrow, Eve succumbs to the temptation mailed to her doorstep and slips into the dress, just as Villanelle breaks into her home, setting off a terrifying bathroom showdown.
Eve is a watershed part for actor Sandra Oh; though she departed Grey's Anatomy in 2014, she remains, in many ways, synonymous with Cristina Yang, the wry cardiothoracic surgeon and best friend ("person") of Meredith Grey, who she played for a full decade. In the intervening four years, Oh has appeared in select, smaller-scale projects, including the anthology series American Crime and the film Catfight with Anne Heche and Alicia Silverstone, but little has dimmed the impact she made on the long-running medical show, created by Shonda Rhimes. (A recent interview with Oh, published ahead of the series, led with the question everyone has been asking: "Where has Sandra Oh been?")
That is, until now. Killing Eve was renewed for a second season (for which Oh said she has already begun preparing) before its first episode had even aired; Oh's name has already started to surface in some very preliminary Emmys talk. Ahead of Killing Eve's fifth episode, in which Eve and Villanelle have a long-awaited tête-à-tête over some reheated shepherd's pie, Oh discussed the series' standout scene, how Asian-American actors have been relegated to the margins of Hollywood, and the music, film, and television she's consuming right now. And no, she has not yet started to be recognized as Eve instead of Cristina Yang when she walks down the street in Los Angeles—but when that moment comes, she's going to celebrate. There will be champagne.
I want to start talking about Episode 5, which airs Sunday night. Ah, ha, yes, let's talk about five.
What it is that stands out to you in particular about that episode? What is exciting to you? It's the first time that [Eve and Villanelle] really meet, and for me, it was the scene of the whole series. We're setting up this relationship between these two women, and they finally meet. They finally meet, they go head-to-head—but it's not your typical head-to-head where they're going to have an argument or they're going to have a fight or they're going to have a standoff in any kind of way. It's very quiet. It's a long scene, it's slightly bizarre, it's threatening, it's emotional. It's very layered. They're sussing each other out; Eve is terrified.
And she's wearing that dress. Yes! I was so jealous of Jodie [Comer, who plays the Russian assassin Villanelle]'s wardrobe. The notes back on Eve's wardrobe was always like, more drab, more boring, more frumpy, more, more, more. So then, you get to Episode 5, and Villanelle makes that move of giving that gift—the gift being an absolute, perfect Roland Mouret dress. It hits on so many levels. As a woman, come on—you get a perfect dress with perfect shoes. For Eve, it's complicated, but she takes her gift. Villanelle makes a move, and Eve falls for it. It's a complicated thing, but I believe Villanelle sees Eve in a way that Eve should see herself. Villanelle sees her in this beautiful dress. It's really creepy and really complicated and a real mind-fuck, but it's also, I think, a beautiful, generous, knowing, encouraging gift.
It's so intimate. It's so intimate. It couldn't be more intimate and complicated a gesture and a gift. It's the first time, the only time you see Eve in something nice, and who's the person who presents that to her? Who's the person who actually gets her to put something beautiful on? It's Villanelle! Eve steps into the clothing—steps into the skin of what it must be to be Villanelle.
There's a moment during that confrontation that really illustrated how far Eve has come since the first episode. Villanelle's in her house and Eve is screaming at her, and they have this face-off in the bathroom. It echoed the first scene, where Eve wakes up screaming because both her arms fell asleep. [Laughs] Oh, my God, you're right.
So I'm wondering what, to you, has changed in that time? A couple things: The very first scene of Eve sleeping on her arms was a reshoot that I shot after Episode 5. [Laughs] I hope I'm not giving too much away, but we reconfigured the beginning. At the very beginning, the most horrifying-slash-interesting thing, the most dramatic thing going on in Eve's life at the top of the show is that she's fallen asleep on her arms. Then, by Episode 5, she's in a bathroom trying to escape a killer and defending herself with a toilet brush. It's a far cry and a far journey. I remember the scream that ended up coming out when Villanelle grabs Eve disturbed Jodie so much that she couldn't remember her lines, because it just sounded like a mangled little dog trying to fight for its life. Loud sounds can really throw you, and it was also slightly ridiculous. So we hit both screaming points, but we go from something that is completely non-threatening to completely threatening. You're seeing how, at the very beginning, Eve was just kind of at the surface of her own life. Being in this relationship with Villanelle—I'm not saying relationship as in face-to-face, but suddenly entering into this larger dance with Villanelle—it just gets deeper and deeper and deeper, and more and more real and threatening, for Eve.
So I saw you posted an Instagram of your parents standing in front of a Killing Eve billboard. Have they been watching the show? [Laughs] I am f—ing shameless with my parents. I've got to tell you, if someone went online and did some digging, there's a lot of tape on them. I've put them on red carpets; I've brought them to awards shows. I have a really good relationship with my parents. They live in Vancouver, but they spend the winters with me, so it was like, these posters are up, and we have to see these posters. Because it's the reflection of your child, right, but this is also what I feel as an Asian-American—we do not have enough physicalized, concretized reflections of ourselves in spaces, images of ourselves, our sisters, our mothers, our aunts, let's say. So they really wanted to see it. It was after church and we were driving around and they wanted to have a picture of it. [Pauses] So I just happened to then put that picture on Instagram.
Well, throughout interviews leading up to the premiere of Killing Eve you were asked quite repeatedly about what it means for you as a Korean-Canadian woman to be headlining a show. Did you anticipate that response, in terms of representation? Honestly, that question, in different forms, has been the main question of my entire career. So the anticipation always comes, because there aren't enough of us. You could possibly spread this question around. Like: Frances McDormand, how does it feel, as a white woman, to be playing this character? No one asks her that, right? I actually want to drill down to why that is. For me, for us, it's because there's just not enough of us, so the questions always get funneled to whoever is representing right now. I don't have the right words for what the reverse is. It's so normalized—Frances McDormand is the face of people and characters that are so normalized to see that you don't question or you don't need to ask the justification for her existence.
Have people started to recognize you on the street as Eve rather than as Cristina Yang? Oh, that's a good question. No, not yet. I've got to tell you, if and when—when that happens, when that happens, I will take myself out for a glass of champagne. That will be a tremendous goal for me.
Let's get into the culture diet questions. What is the first thing that you read in the morning? Oh, I'm ashamed. It's my phone. It's my news feed. I'm ashamed. Truly, it is. I used to not have my phone by my bed, but now I do because I use it as my alarm.
Where do you get your news? I read absolutely no social media. Let's see what's on my news feed: The New York Times, The Washington Post. That kind of stuff.
What books are on your bedside table right now? I don't know if I have any books. I have no culture. No, I know what I've been reading. I'm reading a book that I don't want to tell you because I want to try to make it into something. I can't talk about it at all. It's like luck. I can't jinx it in any way. So that's actually what's by my bedside—it's a book that I can't tell you because I want to make it into something.
What TV shows have been keeping you up at night? I like to laugh, and one of my favorite shows is Schitt's Creek. As a Canadian, I love Eugene Levy, and I have such a mad crush on Daniel Levy. Just a mad crush on that guy. That, and Bill Hader's Barry. Right now, I'm into half-hour comedies. I feel like my mood is, I need to be a little lighter right now. And Chef's Table. I love Chef's Table.
Have you seen the new one yet, Chef's Table: Pastry? Oh, my God. Oh, my God. I mean, it's so good. It's so good. I could go on and on about it. I do love those shows.
What was the last movie you saw in theaters? Black Panther. It was a long time ago. I brought my parents. I thought, maybe it's a little too much for them. They totally loved it. My mother loved Black Panther. I cannot tell you what an insanely high review that is.
Do you have a favorite older spy film or TV show? I know I do. One of my, this is not exactly it, but it's just the one that's on top of my brain right now—the political thriller All the President's Men is one of my favorite films, and I've always wanted to do that film. I wanted to be one of those reporters in that film.
What's the last song you had on repeat? Oh, Jesus. It's probably going to be something really embarrassing. Oh, it's "Rabbit in Your Headlights," the Thom Yorke song for Unkle. I love that guy. Let me see if I can find it right now. [Plays the song out loud] Obviously, I was in a mood.
What was the last museum exhibition that you loved? I went to the Bowie exhibit in Brooklyn. You must go. You must go, to witness a great artist's ability to give us this gift of his own curated work and life. I would love to go back again because I didn't have enough time in there. You need some time in there.
Do you read your horoscope? I used to, all the time. I used to have an app, but then I took that off. I felt like it was just a distraction.
What's your sign? I'm a Cancer.
What was the last thing that you Googled? It was my Pilates studio. That can't be—I've got to have something a little more interesting. Oh, the last thing that I searched, because I'm very much into this, was the 15 best CBD [cannabidiol, a cannabis compound] products of 2018. I'm a great believer in CBDs and I am so happy with the movement that is happening to let people have access to safer and healthier pain relievers. I think this will hopefully revolutionize how people deal with their pain. For me, I have shoulder pain, so it's regarding pain and relieving anxiety and helping me sleep. It has such important medicinal use and I think it should be utilized. I've already bought stuff from this list, so I just wanted to see, what are the best new things out there? It's a very interesting burgeoning market. It's all about pain management for people who don't want to continually take Advil or who want to get off their anti-anxiety medication. I totally understand that.
And making it accessible and destigmatizing it. Absolutely. I think it should be accessible and used and practiced and prescribed.
What's the last thing you do before you go to bed at night? It's actually not brush my teeth—I brush my teeth earlier. It's probably put on face cream. It's put on face cream slash turn off a meditation podcast.
This interview has been condensed and edited for clarity.