What's Really Going On Between Taylor Swift and Matty Healy?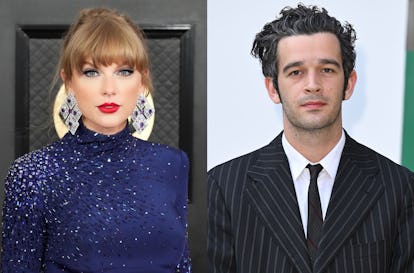 Jeff Kravitz/FilmMagic/ Karwai Tang/WireImage
It seems that 2023 is the year of the fan-opposed celebrity relationship. First, there was Kendall Jenner and Bad Bunny, then Kylie Jenner and Timothée Chalamet, and now, there are rumors that Taylor Swift is dating The 1975 frontman Matty Healy after splitting from Joe Alwyn last month. As of now, nothing has been confirmed, but it seems that if they're not dating, they're just having a grand ol' time trolling the lot of us.
To be fair, the first source to report on this rumored relationship was The Sun, which broke the news last week, saying, "[Swift] and Matty are madly in love." According to a sources, "It's super-early days, but it feels right." Both Swifties and The 1975 fans went into a bit of a tailspin over this one, with many writing reports of the relationship off as hearsay. It seemed like a classic result of a newly single Swift, with the media connecting her with every man who crosses her path. But these are Swift fans we're talking about, and the arm chair detectives quickly got to work, scrutinizing every little interaction or possible clue. A day after the initial reports came out, The 1975 played their song, "She's American" during a performance in Manila, a track that's usually not on their set list. According to fans, Healy apparently yelled "She sure is" during the performance.
Fans also have a conspiracy theory that the two are speaking to each other during their shows. At that same performance in Manila, Healy seemed to mouth, "This one's about you, you know who you are. I love you." Then, a few days later, during Swift's first show in Nashville, she looks to have mouthed the same exact thing.
Speaking of that Nashville show, Healy was in attendance. He also appeared at the second night in the city, going on stage to perform with Swift's opener Phoebe Bridgers. Then, after the show, Swift and Healy were seen together for the first time since the rumors began. According to the Daily Mail, they headed to Swift's condo together, arriving early Sunday morning. That evening, Healy was in the crowd again for Swift's third Nashville show.
As of now, we have not gotten confirmation from either party that a true relationship is taking place. It is possible this is a case of two friends having a little fun together. Swift and Healy have known each other for about a decade, so it can be assumed that they are, at the very least, close friends. Luckily, there are thousands of Swifties (and probably some Healy fans) on the case, so hopefully the truth surrounding the nature of this relationship will come to light sooner rather than later.