And Just Like That... Season 2 Episode 5 Fashion Recap: The Good, the Plaid, and the Ugly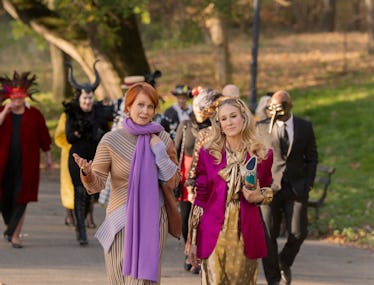 Photograph by Craig Blankenhorn/Max
We may receive a portion of sales if you purchase a product through a link in this article.
I have to admit, And Just Like That... is on a hot streak. Finally, the writers are embracing the episodic nature of Sex and the City, placing the characters in ridiculous, often sex-based plots that begin and end within the title slide and credits. This week, Carrie meets a man she initially believes to be poor, gay, and looking to sue—but it turns out he's rich, straight, and seeking a hook-up. Seema, meanwhile, is shocked by a guy for the first time in years; Charlotte embraces her inner stage mom.
It's light, comical, and exactly what I expected to get from the series since season one, episode one. But once again, while the writing is on an upward trajectory, the costuming still leaves a bit to be desired. It's possible I'm just struggling to accept that Carrie no longer dresses like a 30-something, but most of her outfits in "Trick or Treat" feel like complete misses to me. That's not to say there aren't some good fashion moments in the episode. Charlotte's Halloween fundraiser makes for a few fun looks, and her foray into the world of Ralph Lauren provides the mom of two with her best outfit of the season so far. Maybe it's a sign Charlotte should ditch all the out-of-place Oscar de la Renta, and stick with vintage Ralph moving forward.