Anne Hathaway Goes All in on Leopard Print During Couture Week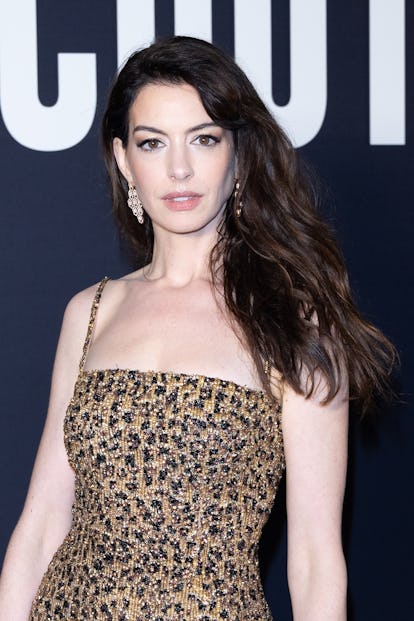 Marc Piasecki/WireImage/Getty Images
It has been a very bestial couture week. There were wolves, lions, and leopards at Schiaparelli, corgis at Chanel, and though Valentino was void of any obvious animal imagery (aside from some ostrich feathers), their contribution to the theme came in the form of a guest—Anne Hathaway. The actress attended the show completely clad in leopard print, and looking like the queen of the most glamorous jungle.
Hathaway arrived to the Bridge, a club underneath the Pont Alexandre III, in a black overcoat, clutching the arm of her husband, Adam Shulman. When she hit the step and repeat, however, she ditched the top layer (and the date) to reveal a dazzling look underneath. The actress wore a leopard print mini dress, completely embellished with crystals with a pair of matching embellished tights. On her feet were pointed-toe leopard print pumps from the brand's pre-fall 2023 collection, which lacked the sparkle of the other pieces. She then finished off the patterned look with a embellished Valentino Garavani Loco leopard print clutch. In theory, it should have been too much—too much leopard and too much sparkle—but somehow, the whole thing worked.
The look adds yet another notch onto Hathaway's recent successful fashion run. Even her travel outfit was noteworthy. The actress was spotted out in Paris on Tuesday looking like Andy Sachs all grown up, and we think Miranda would be proud. Hathaway wore a pair of Valentino wide leg jeans, a white sweater, and a navy blue pea coat also from Valentino, a simple ensemble elevated by her choice of accessories. The actress paired the look with silver Tory Burch Western-style boots, a monogrammed Valentino tote, and a pageboy hat, the same style Andy wore in a scene in The Devil Wears Prada. This time, though, Hathaway wasn't on the job as Miranda's human rolodex, but able to sit back and take in the fashion in leisure.