Here Comes The Many Bridal Met Gala Moments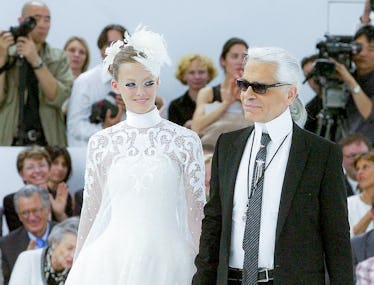 Victor VIRGILE/Gamma-Rapho/Getty Images
The Chanel bride, alongside the image of Karl Lagerfeld hand-in-hand with one of his many muses to close out the fashion house's runway show is ubiquitous in fashion. So it should have come as a surprise to no one that so many celebrities would choose to honor his legacy in a wedding-worthy look of their own.
While plenty of stars honored the legendary creative director in pearls, fingerless gloves, sunglasses and yes, even catsuits, a long list of attendees went full bride for the occassion. Co-chairs Dua Lipa and Penelope Cruz donned '90s looks, while others put their own spin on the instantly recognizable tenet of Lagerfeld's tenure.
There were veils, there were trains, there were (so many capes) and yes, there was plenty of tweed to go around.
Below, a look at the best bridal moments from the Met Gala.