Inside Chloë Sevigny's 'Sale of the Century'
Fashionphiles and Sevigny fans alike lined up around the block to shop the iconic New Yorker's personal closet.
Photographs by Camilo Fuentealba
---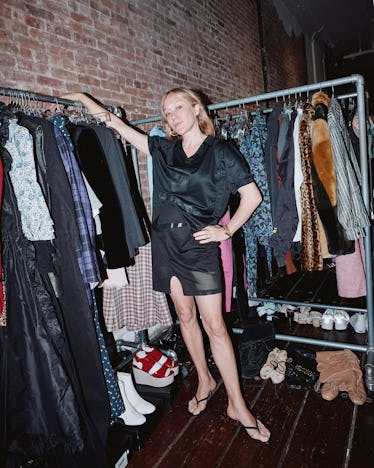 Photograph by Camilo Fuentealba
In the early hours of Mother's Day on May 14, fashionphiles, Chloë Sevigny fans, and those who proudly belong to both camps lined up on a busy stretch of Broadway in New York City's SoHo neighborhood. They'd queued there to stake out a spot for the "Sale of the Century," a warehouse-size yard sale of sorts—except this particular yard sale featured fabulous fashion and accessories from the personal closets of Lynn Yaeger, Sally Singer, Mickey Boardman, and Sevigny herself, all at a discounted price.
Two friends in their twenties, one of whom happened to be visiting the other from Los Angeles, stood at the front of the cordoned-off line. They had been there since 6 AM for the 12 PM sale, they told me, and said most of the people behind them had arrived around 7 AM (eventually, the line would end up snaking around the block, twice). "Seeing Chloë's archive is almost like visiting a museum," Anna, 29, said. "If I see an amazing coat, I'm snatching it. And she has a lot of iconic dresses."
About an hour later, the doors to the intimate, friends-and-family-esque sale opened—and the girls got their chance to both shop and meet Sevigny, who sat perched on a couch with her 3-year-old son Vanja, signing free copies of her Rizzoli book and taking photos with fans. Organized by Liana Satenstein, the former Vogue staffer known for coordinating closet clean-out sales for iconic fashion figures, the "Sale of the Century" generated tons of buzz the second Sevigny posted a flyer for it on her Instagram account. The excitement was a testament to the city's love of secondhand fashion, good sales, and the "It" girl's enduring local celebrity.
For Sevigny, thrifting has been a way of life since she was a kid shopping with her mom, looking for versions of what her friends were wearing at the time: Laura Ashley dresses, polo shirts, Guess jeans, garments by Benetton and Esprit. She started selling her own clothes more regularly while living in the East Village, where the neighborhood would organize a block sale once a year. "I used to sell my stuff in front of my house, on the stoop," she told W. "And then I met Liana. She helped me do a closet sweep and said, 'I've just done a sale with Sally and Lynn. Why don't we do a major blowout storage wars?'"
The sale included pieces from Sevigny's NYC closet and Connecticut storage space, and represented a wide swath of high to low. Sevigny listed a Junya Watanabe motorcycle jacket, a "Miu Miu perfect little Sixties coat with a Peter Pan collar," Jean Paul Gaultier double-breasted blazers, and "lots of Comme" as the items she predicted to sell most quickly. "I think the denim is gonna go really fast," she added. "People are always on the hunt for a good pair of jeans. As a 48-year-old mother, I'm not sure I should be wearing those shorty-short cutoffs, but all the young girls can come and snatch 'em up."
Paper magazine's Mickey Boardman is known for his own annual charity sidewalk sale, and cherishes the opportunity to spend a Sunday with "people who are shopaholics and fashion addicts," he said. Of the shoppers who lined up at 6 AM, he said, "I admire the dedication."
"We all have tiny apartments in New York, so it's good to cleanse and make room for stuff," he added. "It lightens the load on the road of life."
Shoppers lining up around the block hours before "The Sale of the Century" began.
Photo by Camilo Fuentealba
Photo by Camilo Fuentealba
Photo by Camilo Fuentealba
Photo by Camilo Fuentealba
Photo by Camilo Fuentealba
Inside the warehouse space, shoppers snapped up designer pieces with a focused swiftness only the most seasoned sample sale veterans could execute. "I mainly collect Raf Simons, but I also collect Undercover, Margiela, JPG, and Balenciaga," 23-year-old clothing archivist and reseller Vinay Nair told W. "I didn't really come here to resell. I came here because I like Chloë Sevigny. My favorite thing that I got: a 1997 Commes des Garçons knit. I like this because it's a really well-structured sweater—it doesn't have too many seams."
Photo by Camilo Fuentealba
Photo by Camilo Fuentealba
Photo by Camilo Fuentealba
Photo by Camilo Fuentealba
"I got a Vivienne Westwood diaper bag," 19-year-old makeup artist Niko Haagenson said of their haul. "I got the inside scoop: she was gonna use it as a diaper bag, but did not, and sold it. I got a Victorian lace top and then a pair of the Opening Ceremony x Pendleton collab shorts. And then I got the last book signed by her. I am a little bit in shock right now—she signed it with my name."
Photo by Camilo Fuentealba
Photo by Camilo Fuentealba
Anne Hanavan, 56, said her favorite purchase from the sale was "these vintage Tom Ford Gucci pencil pants—and also the orange Linders, which are incredible. And then, of course, high-waist, wide-leg Margiela pants."
Photo by Camilo Fuentealba
Photo by Camilo Fuentealba