Chloë Sevigny Thinks The World Needs More Glamour and She's Doing Her Part
Just ahead of Chanel's Cruise show in L.A., the star discussed her fashion archives and her upcoming role in Feud.
---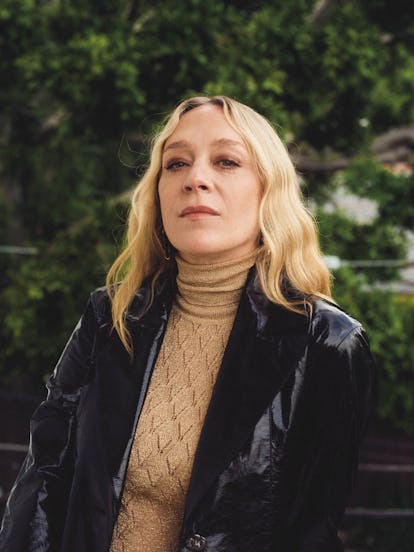 Photograph by Pat Martin
In 1931, Samuel Goldwyn invited Coco Chanel to Hollywood with the intention of boosting a film industry hit hard by the Great Depression by infusing it with her world-famous Parisian glamour. His hope was that by tasking Chanel with designing looks for his leading women both on-screen and off, more females would be inclined to purchase tickets to see his films. Ultimately, the partnership wasn't successful and Chanel returned home to Paris after just one month in Tinsel Town. However, 92 years later, it's the lasting allure of Chanel's glamour that has brought Chloë Sevigny back to Los Angeles.
On May 9, Sevigny joined a host of stars at the Chanel Cruise 2024 show staged at Paramount Studios. The busy New York-based actress hasn't been in L.A. in months. "I have a three-year-old, so I'm not like bopping around as much as I used to," she says. But she's been thinking about the intersection of cinema and glamour lately. And in her mind, Chanel is the epitome of grand cinematic style. After her recent turns in Bones and All and The Girl From Plainville, not to mention years of playing rural women and housewives, the fashion world mainstay has been eager to take on more stylish characters. It's what made her role as famed socialite C. Z. Guest in the long-awaited second season of Ryan Murphy's Feud especially compelling. Just ahead of the cruise presentation, we checked in with the star to discuss the upcoming series, her getting-ready process, and what's in her fashion archives.
Tell me a little bit about what you're wearing tonight.
I am wearing a gold knit two-piece set with a turtleneck and slacks. A flare pant with like a black vinyl trench and black vinyl platforms. Very Chanel does seventies Hollywood.
You've worn Chanel so many times over the years. There's been a lot of great moments. What's your approach to wearing their clothes?
I love wearing Chanel around the context of films, like at festivals or premieres. To me, there's a timelessness to a lot of the dresses. There's enough edge, enough glamour, enough cool. It always has a kind of a Hollywood allure, like some sort of sense of history and cinema. Which is why I often go back to them over and over again for events like Cannes or the Vanity Fair Oscars party. In 2001 or 2002, I think I wore a couture look for that party and that was one of my first appearances in Chanel. I just remember feeling very elevated and very like "movie star."
How many Chanel pieces do you keep in your archive?
Just a small handful. A lot of tweeds, a lot of bags, a lot of shoes, not so many garments, unfortunately.
Do you have a preferred playlist when getting ready for a show?
Usually more instrumental stuff like Durutti Column or something more mellow. I'm not one of those people that wants to get really hyped up to go to the fashion show. I know there's gonna be so much socializing there. I'd rather just kind of be chill and quiet beforehand and rest my mind a little before the onslaught.
Sevigny wore a natural makeup look using Chanel beauty products.

Photo by Pat Martin
In Feud: Capote's Women you play socialite icon C. Z. Guest. A lot of your most notable TV characters have had wardrobes that were a little more suburban, rural, or even straight out of a religious cult. What was it like playing someone who was so known for her high fashion?
Finally! I've been wanting to play a glamorous character since The Last Days of Disco and she was only like halfway glamorous. This was so much fun. Our costume designer has won a million Emmys and she was so specific. The show spans many decades, but say there's a funeral scene in 1965, she would find a Givenchy dress from a show from '65 and that would be what I would wear. She really wanted to be as authentic as possible.
We looked at a lot of photos of C. Z., but there wasn't that much documentation of her in the period that we were portraying. We tried to keep her spirit alive and be as loyal to people's imagination of her as possible. We're definitely loyal to dates and, you know, the hats, gloves, pearls, all of that. The only bad part about those periods, especially the late seventies, early eighties, is the low chunky heel makes everything look a little dowdy. We're so used to a high spike and they wore these really weird half-heel kind of things. It always makes everything look a little granny.
It's interesting that you say you've been waiting to play a glamorous character. I feel like people would come to you for that all the time.
I don't think that they make that many glamorous movies now, you know? Unfortunately they're few and far between. I always think about that Sandra Bernhard interview on Letterman saying, "We need more glamour!" People are yearning for that. So I'm excited for the show to come out.
It also explores the darker underbelly of the artist and the writer and alcoholism and friendship. It tackles a lot of issues. But there's a lot of glamour. It's caked on.
Did you do a lot of your own research?
I read George Plimpton's Truman Capote book. Slim Keith's book. The Capote's Women book, which the series is based on. Obviously Truman's own books. I looked at endless photos of C. Z. online and different things people had written about her. There wasn't a lot of video footage of her, strangely, but at first I was doing her accent to a tee. I worked many hours. Ryan Murphy calls me up and says, "No one is going to believe that anyone talks like this." She would switch between a British, Boston and New York accent in one breath. He was like, "I think this is too challenging," so I ended up having to water it down a little bit.
Did you always admire that era and "The Swans" as they were called?
Those women all held a lot of allure for me. I think the Society ladies had some sort of mysterious quality that I always admired: How devoted they were to their lifestyle, they were like American royalty. Which, you know, is problematic. Royalty, obviously. But it's what we had.