See Every Red Carpet Look From the 2023 Critics Choice Awards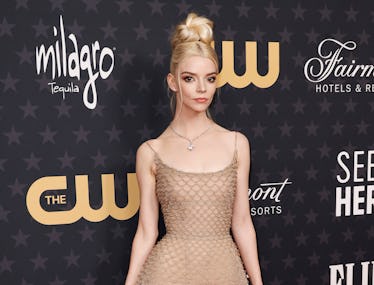 Anya Taylor-Joy attends the 28th Annual Critics Choice Awards in Dior Haute Couture.
While the Golden Globes used to be the award show authority on combining film and television, their controversies over the past few years have allowed for other events to sneak in and take a place on the major award show circuit. Next month, the Screen Actors Guild will hand out their honors at their 29th annual ceremony, but on Monday night, at the Fairmont Century Plaza Hotel in Los Angeles, it was the critics' turn to have their say.
Chelsea Handler hosted the 28th annual Critics Choice Awards as stars from across the two industries came together, with the film sect hoping for another bump ahead of the Oscar nominations later this month. Everything Everywhere All at Once lead the movies with 14 nominations, while Abbott Elementary, which just won big at the Globes, had six, the most for a TV show.
Of course, all of this means the stars were plentiful, as they attended with the hope of taking home one of those silver, star-shaped statues. Nominees included Anya Taylor Joy, Janelle Monáe, and Michelle Yeoh, who all brought some exciting looks to the red carpet. Plus, Cate Blanchett, who skipped the Globes the week before, made an appearance and you're going to want to see what she wore to the event. So, keep scrolling for a break down of every look from the 2023 Critics Choice Awards.