ACTUALLY, THAT IS TRUE...
Dakota Johnson Triples Down on Denim at Sundance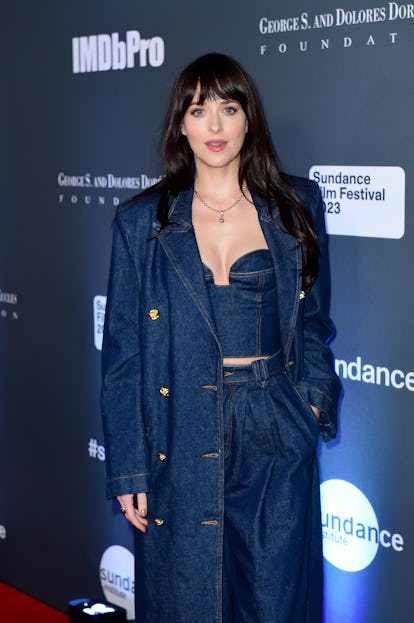 Vivien Killilea/Getty Images Entertainment/Getty Images
Now that Dakota Johnson has finished shooting her upcoming Sony Marvel flick, Madame Web, she has more time for other things, like say, supporting her friend and frequent collaborator Luca Guadagnino at the 2023 Sundance Film Festival. On Thursday, the actress stepped out to present the director with the Festival's International Icon Award on opening night and, of course, she did so in style.
Johnson pivoted away from her usual Gucci for the evening, opting instead to dress in head to toe denim, courtesy of Magda Butrym. To call her look a Canadian tuxedo wouldn't even do it justice, because this look wasn't comprised of two denim pieces, but three. The actress wore a pair of baggy, pleated jeans with a matching denim corset on top. She then finished off the ensemble with a double-breasted denim trench in the same dark wash. Simple black pointed-toe heels and a Jessica McCormack diamond necklace completed the ensemble, yet it all makes for a slightly eccentric look. Johnson posed on the red carpet alongside Guadagnino, who also traded in his signature designer for something new, opting to wear Prada instead of his usual Loewe.
Later in the evening, Johnson ditched her overcoat when she took the stage to present Guadagnino with the award. It was there that she allowed her biting humor to come out to play. Johnson, who worked with the director on his films A Bigger Splash and Suspiria, reminisced on one of Guadagnino's other past projects, which initially premiered at Sundance. "It was here at Sundance in 2017 that audiences experienced a film that is uniquely characterized by Luca's iconic approach to storytelling," she said. "The vision and the style that is Call Me By Your Name. Sadly, I wasn't in that one." Johnson went on to say that Guadagnino had asked her to play the role of the peach in the film, but her schedule wouldn't allow it. "Thank God, though," the actress continued. "Because then I would've been another woman that Armie Hammer tried to eat."
Johnson was referencing the scene in the film when Timothée Chalamet's Elio ejaculates on a peach before Hammer's character Oliver finds it and tries to eat it. The actress was also making light of the controversy surrounding Hammer, which included alleged DMs to women like one where he claimed he's "100% a cannibal."
"It's been five years since that film premiered here, and Luca hasn't stopped taking us to exciting places," Johnson continued. "Who knew cannibalism was so popular?" Of course, Guadagnino's current film, Bones and All covers the controversial topic as well, telling the story of two young people falling in love while also dealing with their cannibalistic tendencies. Earlier on in the film's promotional cycle, Guadagnino commented on the connection between Hammer and his new film's subject. The allegations against Hammer first came out during the same month in which Bones and All was initially announced, and Guadagnino was surprised by the public's conflation of the two.
"It didn't dawn on me," he said of the connection. "I realized this afterward when I started to be told of some of these innuendos on social media." He explained that the film is based off a book published in 2015. "Any link with anything else exists only in the realm of social media, with which I do not engage. The relationship between this kind of digital muckraking and our wish to make this movie is nonexistent and it should be met with a shrug. I would prefer to talk about what the film has to say, rather than things that have nothing to do with it." Maybe, he should have told that to Johnson.