Doja Cat's Biggest Grammys Fashion Moment Happened Off the Red Carpet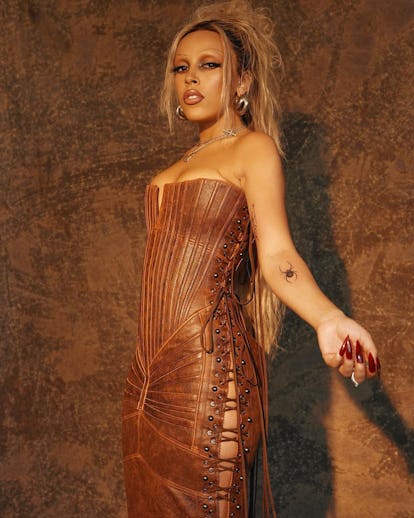 Instagram/@jpwphoto
It's safe to say no one expected Doja Cat to wear just one dress during this year's Grammy Awards. It just wouldn't be in her character. The singer—who pulled out four distinctive looks for couture week just last month—consistently has a backlog of moments ready to see the light of the paparazzi at any given moment. So when she arrived at the 65th annual Grammys in a black vinyl Versace number Sunday night, it was clear there was more to come. And boy, did more come. After walking the red carpet, Doja slipped away. When she returned, she was a whole new Cat.
For the ceremony portion of the evening, the singer opted for a custom look from London-based brand KNWLS: a tarnished leather gown that turned Doja into a sort of steam punk goddess—or as the singer herself described it, "a studded leather sofa." That was the vision Doja brought to KNWLS's founders, Charlotte Knowles and her partner Alexandre Arsenault, when she first approached them with her stylist, Brett Alan Nelson. Like many celebrities, Doja was already a fan of the brand, and an owner of their signature Claw jacket. In fact, it was that piece which inspired the design for the dress. "We loved this idea," Arsenault told W over email. "It is very KNWLS—leather, lace, and studs as a fully boned corset gown."
From there, Knowles (the designer of the pair) got to work. "It was definitely a labor of love," she said, admitting she sewed half the dress herself. "The boning placement needed to be very precise and there was no time for errors." It took Knowles two days just to punch holes in the leather and place the 700 eyelets and 100 tarnished dome studs. "Our hands are still hurting," she said. "It is pretty much a couture piece—we never spent as much time on one garment."
Seeing Doja in the gown made the level of workmanship eminently clear. The dress hugged the singer's body, cinching at the waist, and coming apart into two separate pieces at her feet to show off her matching Serpent lace boots. Of course, the styling helped to complete the look, with Doja trading in the black choppy pixie cut from the red carpet for blonde locks with dark roots gathered at the crown of her head and trailing down her back. Pencil-thin brows were added to a makeup look of black smudged eyes and over-lined lips, completing the dark, industrial aesthetic. Doja previously hinted at the dress last week, calling it "brutalist," a description Knowles finds appropriate. "The silhouette and lines are very strict and structured," allowing the raw materials and impressive construction to take center stage.
And while the dress may not have hit the red carpet, its appearance at the Grammys—and on one of fashion's fastest-rising stars—was quite the moment for an independent brand like KNWLS. Yes, they've dressed Kendall Jenner, Dua Lipa, even Beyoncé, but to be a part of music's biggest night is a different kind of milestone. Arsenault and Knowles now join an elite group of designers who have dressed Doja for the Grammys—a list that includes Fausto Puglisi of Roberto Cavalli and Donatella Versace. "It means a lot," Arsenault said. "They could have chosen any of the big brands in the industry, but decided to work with us. We loved the challenge. And how amazing it is that our first Grammys dress is a fully laced leather gown on Doja Cat?" Amazing, indeed.