Elle Fanning Is Very Much Earning the Moniker of "One-Woman Met Gala"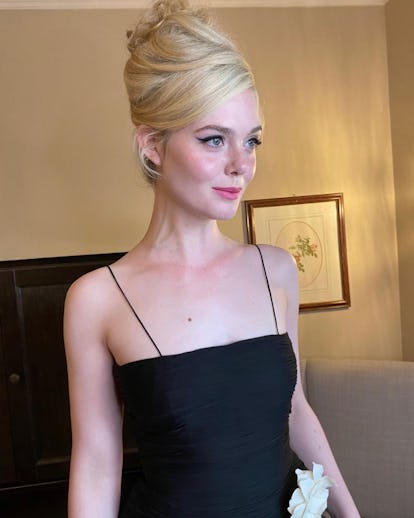 @erinayanianmonroe
It's been over a week since Elle Fanning walked the red carpet at the Cannes Film Festival, an upsettingly long abscence considering the magnitude of her look from the festival's opening red carpet last Tuesday. While it would be great for the actress to hit the stairs once again before the week runs out, she's already packed up her presumably immense amount of luggage and headed over to Florence. Thanksfully, she's still delivering looks. In fact, over the past few days, the actress has showed off so many note-worthy ensembles, she's rivaling the main event the country over.
Fanning has proven she loves nothing more than showing off the best of both the old and the new, and recently she did just that, presenting one look that happens to be older than the actress, and another that made its debut just months ago. First, let's discuss the old—a vintage Oscar de la Renta gown from spring 1993 sourced by Cherie Balch of Shrimpton Couture, which Fanning wore to attend a Cartier High Jewelry event on Wednesday night. A black ruched bodice hit Fanning's hips before erupting into a skirt of layered tulle. Fanning and her stylist, Samantha McMillen, seemingly added a white rose and ruffle to her left hip, and styled the dress with a black Cartier diamond choker and the actress' hair pulled up in a regal 'do.
And while the ODLR moment was all about elegance, her second look embodied a more artistic nature. It actually came before the Oscar gown, back when she was in Cannes last week, but we're only getting a look at it now. We already knew about the insanely cool silver dress Fanning nabbed from Paco Rabanne's fall 2023 collection for their Cannes party, but it turns out Fanning has worn two other dresses from that same collection recently. She also pulled out a classic Rabanne metal dress in gold, created from triangular pieces of metal and fringe. Then, the actress followed that up with one of Julien Dossena's dresses from the collection's collaboration with the Fundació Gala-Salvador Dalí. Fanning showed off the blue dress, which featured cutouts on the bodice and chest as well as more subtle chain details. Dalí's 1994 work, "Dream Caused by the Flight of a Bee Around a Pomegranate a Second Before Awakening," is printed across the skirt, depicting two tigers jumping at a naked woman, one as it gets eaten by a fish. The surrealist print of the dress led Fanning and McMillen to go simple on styling, keeping the actress' hair down and adding only a red lip, almost as if she took a bite of the juicy red pomegranate on her dress.
It's no wonder Evan Ross Katz called Fanning "a one-woman Met Gala," the actress is providing more looks than the rest of the celebrities currently jaunting around Europe combined. And luckily, it seems like we have a whole lot more Fanning style moments in store. The actress is staying booked and busy. She's joining Timothée Chalamet in the upcoming Bob Dylan biopic, A Complete Unknown, and just yesterday, it was announced that she is to star in the psychological drama Rosebushpruning alongside Kristen Stewart and Josh O'Connor. That, of course, means that while we may have to wait a bit, we have a lot of Fanning press tours and premieres on the horizon.