Emily Ratajkowski's Look Will Have You Doing a Double Take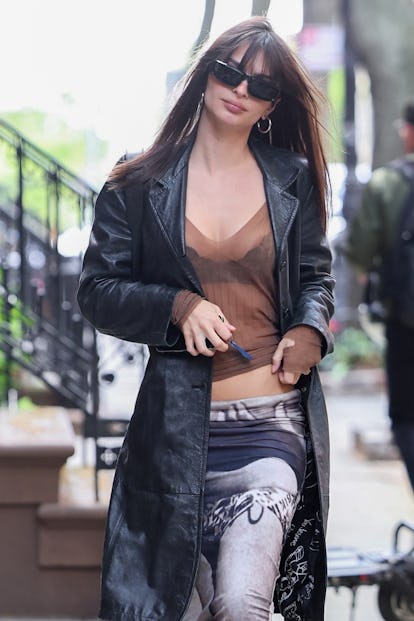 T.JACKSON / BACKGRID
We may receive a portion of sales if you purchase a product through a link in this article.
There are a lot of reasons why Emily Ratajkowski's latest street style ensemble may have caught your eye. Perhaps even tricked you. On Monday, the model was seen heading to the Sony Music Studios in NYC to film her podcast wearing a black and brown look that was not as it initially seemed.
Ratajkowski started her ensemble off with the sheer brown Marc Jacobs long-sleeve that Kendall Jenner famously wore on the brand's fall 2014 runway. Since the piece is completely see-through, Ratajkowski added a black lace bra underneath, though she still risked a bit of a slip while walking around. On the bottom, the model added a black and white graphic skirt, featuring a trompe l'oeil image of a bikini-clad woman's bottom half. Now, this piece is actually a dress from the UK brand Elliss, which Ratajkowski rolled down to wear as a skirt. From there, the rest of the outfit was pretty straightforward, as the model added her favorite leather, knee-high Dior boots, a black leather trench, some Prada sunglasses, and a pair of Jordan Road hoops.
Ratajkowski's outing comes not long after she once again addressed her Tokyo make-out session with Harry Styles, calling the whole situation "very strange" during an interview with Vogue Spain. "It's very bizarre to have certain experiences and then have the whole world know about them and comment on them," she said. "I'm just a person who's gone from a three-year relationship to a four-year relationship, so this is the first time in a long time that I've been in a dating stage." She said that dating is "a tiny slice" of her life, which otherwise revolves around her son and her work. "I guess [those] issues don't inspire the same flashy headlines."
She continued, admitting that the "invasion of privacy" is hard for her, and she is sympathetic for Styles's ex Olivia Wilde, who has been caught up in the situation as well. "I feel bad for Olivia, because she has had to suffer this situation on several occasions." In all, Ratajkowski believes the whole scenario is "just an unfortunate issue."
Shop Emily's eye-catching look:
We may receive a portion of sales if you purchase a product through a link in this article.