Florence Pugh Goes Elegantly Sheer (Again) at Valentino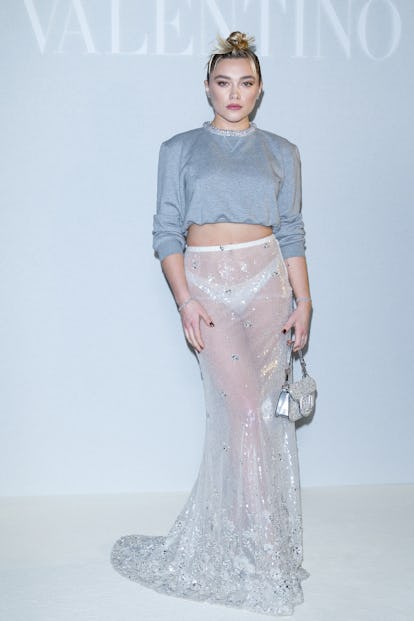 Marc Piasecki/WireImage/Getty Images
Give Florence Pugh her props for elevating fashion's current sheer garment craze. The 27-year-old Oscar nominee hasn't been afraid to mix in a peek-a-boo moment with high red carpet glamour, and has rolled her eyes at anyone who has a problem with it. So the outfit she wore to sit front row at Valentino's latest ready-to-wear show over the weekend should come as little surprise.
Taken altogether, her ensemble was a fun, surprising mix of casual and formal elements—mixing athleticwear and lingerie, but making it red carpet appropriate. Up top, she wore a cropped heather grey sweatshirt that was elevated by its jeweled collar. But her skirt is surely the part of the look that will go viral. The full-length white skirt was beaded and emblazoned to the high heavens, but its base was made of a translucent fabric. Needless to say, it took the whale tail revival to a whole new level.
Pugh has "freed the nipples," as they say, on the red carpet before, and really doesn't get what all the fuss is about. "I've never been scared of what's underneath the fabric," she told American Vogue earlier this year. "If I'm happy in it, then I'm gonna wear it. Of course, I don't want to offend people, but I think my point is: How can my nipples offend you that much?"
Last year, Pugh let the haters have it in an Instagram caption defending her right to wear a daringly sheer pink Valentino dress. "It isn't the first time and certainly won't be the last time a woman will hear what's wrong with her body by a crowd of strangers, what's worrying is just how vulgar some of you men can be," she wrote. "Thankfully, I've come to terms with the intricacies of my body that make me, me. I'm happy with all of the 'flaws' that I couldn't bear to look at when I was 14. So many of you wanted to aggressively let me know how disappointed you were by my 'tiny tits', or how I should be embarrassed by being so 'flat chested.' I've lived in my body for a long time. I'm fully aware of my breast size and am not scared of it."
While Pugh may look "underdressed" in the eyes of puritans and middle school principals, she never looks underdone during any of her sheer moments. It's not like she's searched "sheer" on ASOS and is wearing whatever came up just for the hell of it—festival dressing, this is not. This look, like those which came before it, are beautifully crafted, elegant, and, of course, all Valentino.