How Glenn Close Evolved From Demure Ingenue to Red Carpet Style Icon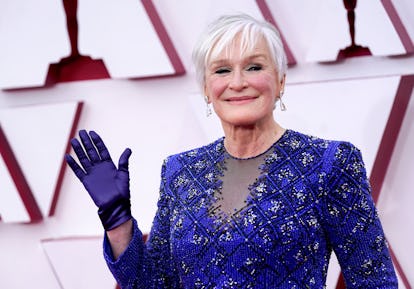 Courtesy of Getty Images.
Glenn Close has always had the range when it comes to delivering impressive performances both on stage and on screen, but she's also demonstrated over the decades that her range extends to her red carpet style, as well. In the early 1980s, she burst onto the scene and won her first Tony Award. The following decade, her 101 Dalmatians character, Cruella de Vil, a chic villain with a dastardly penchant for puppy fur became almost synonymous with the actress. (The real Close, on the other hand, would never do such a thing—her love for her dog Pip, who has accompanied her on red carpets during awards season, is as heartwarming as it is hilarious.) In the 2000s and 2010s, Close was not only firmly positioned in Hollywood as an acclaimed actress, but as a performer inching forward with taking some fashion risks on the red carpet, donning brightly colored two-piece looks and sharply tailored capes. Here, take a peek at Close's style evolution, from demure Hollywood newcomer to legendary fixture of the silver screen.
This article was originally published on