Hailey Bieber's New Favorite Designer Is Straight From the London Underground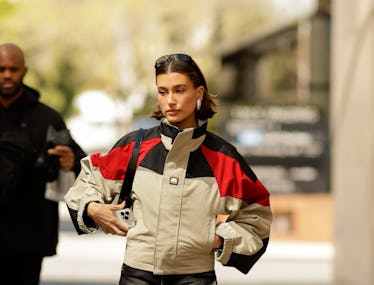 Rachpoot/Bauer-Griffin/GC Images/Getty Images
Hailey Bieber may be America's reigning Girl Next Door, but one of her favorite fashion labels of late can be more closely associated with the phrases "cult favorite," "London underground," and "subversive." Bieber seems to be the latest star who's caught a fever for Martine Rose, the London-based Jamaican heritage designer who started her eponymous menswear label in 2007 as almost an art project—but whose mainstream fashion profile has experienced a rapid ascent over the past few years. Given Bieber's fashion influence, her recent favoritism for the brand may only help rocket Rose to wider acclaim.
Bieber touched down in New York City yesterday and took to the streets with her love for Rose's designs on full display. She paired the brand's black-and-blue paneled sports jacket with a pair of their straight-leg baggy jeans. She styled the rest of the look to give off an air of incognito chic, with a black hat and sunglasses and a gray crop top layered underneath. Although square-toed shoes are actually a Rose signature, Bieber's pair is from Jil Sander.
A few weeks before, while Bieber was spotted in Los Angeles, she also opted for another Rose sports jacket, this one with shrunken proportions and panels of black, red, and khaki.
Then in February, she was spotted in a black bomber jacket with oversized gathered sleeves from the brand.
Bieber's love for Rose isn't completely new. She was also spotted in some of the designer's jackets back in 2018 and 2019 as well. Still, the affinity is somewhat surprising.
Rose, whose line is officially classified as menswear (though she's taken a somewhat gender neutral approach), finds her inspiration in the underground London club scene of the '90s, though you could easily imagine football hooligans, extras from early seasons of NYPD Blue, and maybe even old pictures of your dad and your grandmother's furniture upholstery on her mood board. There's a sense of twisted nostalgia to her garments—like a thrift store haul from Wonderland. Her unique approach has helped her win fans among an unlikely cross section of hypebeasts, art school kids, and fashion insiders, not to mention other celebrities like Rihanna, Kendrick Lamar, and even Kim Kardashian (who's been spotted in her track pants). Although Rose has maintained her line since 2007, a gig consulting for Balenciaga's menswear collection in 2015 brought her to greater prominence. Recently, she collaborated with Nike (her reinvention of the brand's derided Shox sneakers as a heeled mule were a big hit in the front row during the spring 2023 fashion weeks) and Tommy Jeans. An upcoming collab with Stüssy was just teased yesterday.
Rose was also widely rumored to be in consideration for the menswear job at Louis Vuitton before it was ultimately awarded to Pharrell Williams. But the attention from the likes of Bieber proves she may be quite alright on her own.