Hailey and Justin Bieber Continue Coordinating in Y2K Tanks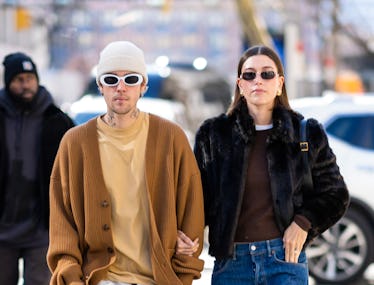 Gotham/GC Images/Getty Images
Hailey and Justin Bieber love to coordinate their looks. Maybe they do it on purpose, or maybe it's like a marriage telepathy sort of thing, but either way, it keeps happening. It probably helps that the couple's individual style is becoming more and more similar by the day to the point where we wouldn't be surprised if they shared a wardrobe. And while yes, it's easy to conflate their outerwear when they both opt for baggy jeans and oversized coats, even when they strip down to tanks they end up dressing similarly.
On Monday, Hailey shared a photo dump on Instagram showing off some of her recent pics, and the fifth picture in the slideshow proves just how in sync the Biebers really are when it comes to their style. In the photo, both Hailey and Justin are wearing some very '00s looks. Justin opted for a classic white tank top with a white long-sleeve wrapped around his neck and a pair of cream sweats. He then topped off the look with red sunglasses and a backwards cap. While Hailey could have easily been wearing her husband's outfit, she instead wore a tan camisole lined with lace and a pair of jeans, accessorizing with some very early-aughts sunglasses and gold earrings.
The set of photos also does the job of showing off what the Biebers were up to this weekend instead of attending the Grammy Awards. Justin was actually up for an award this year, for Best Music Film for Justin Bieber: Our World, however since it's not a major award, it was not presented during the taped broadcast. Likely that is why the couple opted not to attend, and instead spent the weekend with friends. Of course, it would have been fun to get a red carpet moment from the couple, but there's always the opportunity of the Met Gala in May.