Hunter Schafer Wore a Recreation of a 90s Prada Dress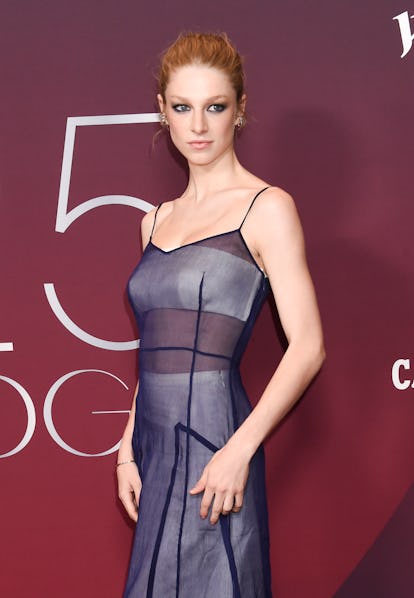 Gilbert Flores/Variety/Getty Images
Considering Miuccia Prada and Raf Simons just debuted a new collection for Prada at Milan Fashion Week, one would expect some of those looks to be finding their way onto the many red carpets as of late. In reality, though, that hasn't been the case, and that's not to say Prada hasn't been represented at the SAG Awards, the NAACP Image Awards, and all the others. It has, but it's not modern designs that are taking over, but vintage ones.
At the 2023 Costume Designers Guild Awards, Hunter Schafer wore a custom Prada look featuring a sheer purple sleeveless dress on top of a white pleated skirt and matching bandeau. The look was inspired by one from Prada's spring/summer 1997 collection, originally modeled by Amber Valletta on the runway. It was a collection when Miuccia traded in her stiffer silhouettes usually rendered in nylon for a more ethereal look, an aesthetic the designer returned to when recreating the piece for Schafer.
Schafer's dress marks the second recreation Prada has put on a red carpet this week. At the NAACP Image Awards on Saturday, Zendaya took the stage in a recreated set based off a look from the brand's spring/summer 1993 collection. Stylist Law Roach was behind both of these updated Prada moments, meaning he probably has Miuccia on speed dial at this point, and it seems likely this trend of new old classics will continue.