Jennifer Aniston Steps Out of Her Style Comfort Zone for the Murder Mystery 2 Premiere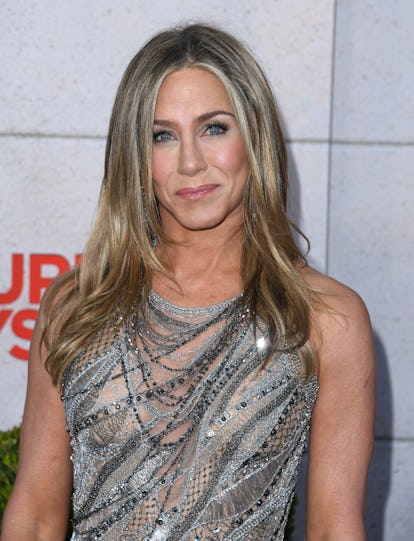 Steve Granitz/FilmMagic/Getty Images
Jennifer Aniston's style is often an exercise in the timelessness of simplicity. The actress has always favored neutral hues, classic silhouettes, and looks that would fit in just as seamlessly in the '90s as they do in 2023. That's why it was a bit surprising when Aniston seemingly threw her usual style rule book out the window for her latest appearance, and took on the red carpet in a look that is, in our opinion, fairly non-Anistonian.
That's not to say we're complaining. It's fun to push the boundaries a little, and Aniston's small step out of her box was definitely a success. On Tuesday night, the actress attended the premiere of her upcoming film, Murder Mystery 2, in Los Angeles. For the event, Aniston wore a dress from the recent Atelier Versace couture collection. The mini dress is semi-sheer, created from beads in a variety of gray hues for a knit effect that travelled across Aniston's body and stopped at an unfinished-style hem on her upper thigh. When it came to styling Aniston stuck with her usually simple makeup, straight hair, and subtle jewelry, wearing only a few rings and silver Jimmy Choo sandals.
This isn't to say Aniston has never worn an intricate dress in her life. When she was younger, she loved some good beading. Just take the dress she wore to the Emmys in 1999, with a similarly sheer bodice, or the patterned Roberto Cavalli she wore to the premiere of Office Christmas Party in 2016. Still, Aniston's signature has always been simplicity, and on this current press tour, the actress has been especially embracing that, so it was a pleasure to see her mix things up a bit on Tuesday night.
Aniston's glam dress was heavily contrasted by the look of her costar, Adam Sandler, who arrived at the premiere in Knicks sweatshirt with a Hawaiian shirt underneath, slacks, and a pair of blue sneakers. "What the hell are you doing?" Aniston asked Sandler when she first saw him on the red carpet. "I'm not standing next to him," she told Entertainment Tonight. Sandler insisted Aniston gave him the OK. "You texted me, 'Please wear your sweatshirt,'" he said, though Aniston clarified she wrote, "Please don't wear your sweatshirt." In the end, though, it seems Aniston put aesthetics aside and stood next to her costar for at least a few photos.
Luckily, Jodie Turner-Smith was at the premiere as well, and she was able to match Aniston's glamour in a golden Schiaparelli spring/summer 2023 ready-to-wear ensemble. The actress looked like a '70s goddess in a double-breasted gold tweed coat with golden buttons. Surrealist eye chandelier earrings and a matching ring completed her ensemble. When posing for a photo, Turner-Smith and Aniston looked like your two favorite pieces of jewelry sitting on your dresser, both making a convincing case of why you should wear them together and mix metals.