According to Megan Thee Stallion, Disco Never Died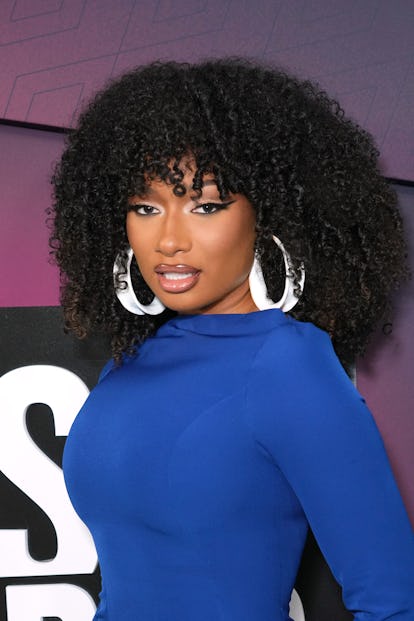 Kevin Mazur/Getty Images Entertainment/Getty Images
The first thought many had when they saw Megan Thee Stallion on the CMT Awards red carpet on Sunday night was, "Wait, why is she there?" The second thought, though, was "Thank god she is there!" The questions around her attendance quickly dissipated when the rapper showed off her ensemble for the event, which was immediately placed amongst the highs of Megan's recent successful red carpet run.
The rapper attended the awards, held at the Moody Center in Austin, Texas, in a cobalt blue dress from the small Italian brand, Defaïence. The tight-fitting, long-sleeved gown hugged Megan's body, revealing her skin with the help of a hip cutout that gave way to an oversized white buckle. Large, white hoops and '70s-style curls completed the retro ensemble. The look was styled by Law Roach, who shared some of the inspiration behind the dress—the white, halter neck gown Toni Braxton wore in the 1996 video for "Un-Break My Heart," which featured a similar side cutout.
Despite the '90s reference, the look definitely had a '70s feel to it, a decade Megan has clearly been heavily inspired by as of late. This CMT Awards look comes after another from the rapper that would have fit squarely into the scene at Studio 54. Last week, the rapper attended The Hollywood Reporter's Power Stylists Dinner, wearing a champagne-colored set featuring boot-cut pants and a chain halter top, a custom creation from Paco Rabanne, inspired by a look Yasmeen Ghauri originally wore on the spring 1997 runway.
Though both of these looks were styled by Roach, he has made it very clear that he planned them out months ago, and this does not mean he has un-retired. The Defaïence look, specifically, was for the Grammys, though Megan opted not to attend this year. Luckily, it still got its moment.