Julia Fox & Shawn Mendes Ask, Are We Ready For Men's Version of the 'No Pants' Trend?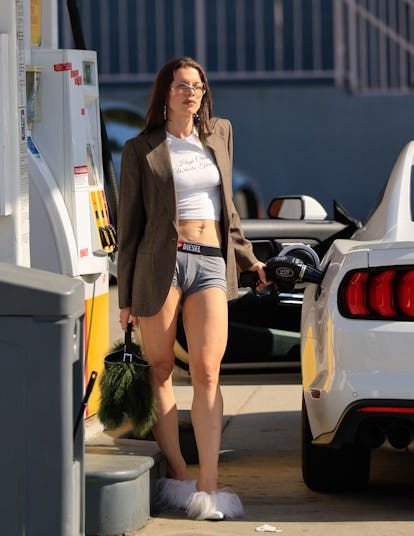 Rachpoot/Bauer-Griffin/GC Images/Getty Images
Julia Fox already has a spot in the "no-pants trend" hall of fame. Her commitment to serving looks in an "underwear as outerwear" kind of way is rivaled perhaps only by Hailey Bieber and the Jenner sisters. Yet, her latest take on the fad came with a surprising bit of gender play. The consummate New Yorker was spotted at a Los Angeles gas station in an outfit that had a few highlights (a smart blazer, a tee that read "high class white trash," and both bag and shoes done up in fuzz), but the real eye catcher was her bottom layer: just a simple pair of gray men's boxer briefs. You know, the kind you can buy in a three pack. Fox's version was from one of her favorite brands: Diesel, of course.
Fox, whose friend Tommy Dorfman told us was basically a "performance artist," was really hitting home on her "high class white trash" thesis statement with the gas station photo opp, but compared to her previous experiments with no-pants dressing, this one was basically unisex. Which begs the question... are we ready for the possibility of the no pants trend on men? Fox seems to be daring the guys to join her and showing them the way.
Right on cue, Shawn Mendes took to Instagram to tell us "...maybe?" Or at least to remind us that a certain trend of pantsless dressing for men exists, in the comfort of their own homes (perhaps after a long day of work while watching the game). While Julia was wearing boxer briefs and a blazer, Mendes, posting about the importance of attuning oneself with nature, uploaded a photo of himself in the transitional weather 'fit of boxer briefs and a knit sweater (though seemingly far from the public eye).
For more serious evidence, we might look to the runway.
Loewe creative director Jonathan Anderson sits near the top of the heap of fashion's most influential designers, and low and behold, he's indeed been experimenting with some "no pants, no problem" looks in his fall 2023 menswear line.
In his debut show as the newly anointed creative director at Ann Demeulemeester, designer Ludovic de Saint Sernin proved he's not afraid of a little leg (no surprise to anyone familiar with the menswear looks he creates for his own label).
For spring 2023, the ever-cheeky Thom Browne had even gone so far as to suggest a visible jockstrap as the fella's answer to the whale tail trend. Only for the daring, we assume.
While other designers didn't go quite as far, short shorts about the proportion and silhouette of a boxer or boxer brief were not hard to find on several other recent runways for both fall and spring 2023. While we wouldn't classify it as "no pants" exactly, Pedro Pascal's recent short-shorts moment at the Met Gala courtesy of Valentino seemed to indicate that a bit of gentlemanly exposed shin and knee is in. It certainly went viral enough to inspire copycats. (Does Lil Nas X's look from the same evening count as "no pants" or just "no clothes at all?")
Lest you assume the fashion world is now advocating for any man to leave his Levi's at home and take a stroll to Starbucks in something thin and white he bought in a five pack at Costco, that's not the case. Your last-minute Breaking Bad Halloween costume is not in fashion. Nor is anything that may have people running to notify a public safety aide. Like all daring fashion trends, it needs to be carried out with intention and within the proper context. One would need to make sure it's clear they're serving a look, not a warning.
While we've already seen iterations of the trend in the nightlife dens of Bushwick, Hell's Kitchen and elsewhere, we can only wonder when it may make its way to the red carpet or celebrity street style sections. You know some menswear wunderkind out there is daring to give it a go. Though, we should all remember who (technically) did it first: Alexander Skarsgard at the 2016 MTV movie awards. Your move, Harry Styles.