9 Actual American Things About The American Fashion-Themed Met Gala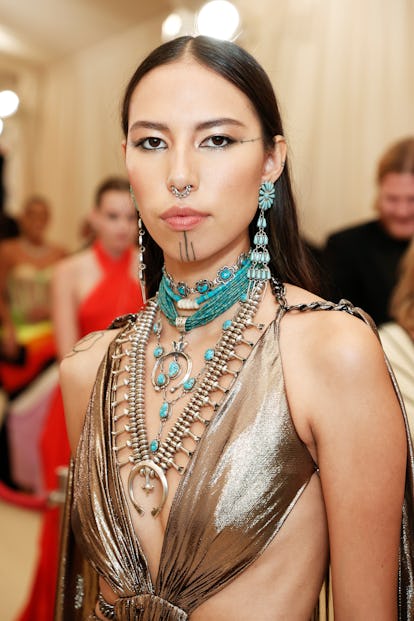 Photo: Arturo Holmes/MG21/Getty Images.
The 2021 Met Gala's titular theme was, ostensibly, "In America: A Lexicon of Fashion." It was puzzling, then, that so many attendees chose to wear European designers.
Fashion has a grand tradition across the pond, to be sure. But the history of American fashion is equally rich with beauty, poetry, symbolism, and power. In the 1920s, flappers freed themselves from centuries of painful, dangerous corsets with their straight-cut dresses. Suffragettes, knowing their challenge in persuading hearts and minds, wore white to make their cause as palatable to the American public as possible. Respectability politics, in hindsight, deserves critique, but activists during the Civil Rights Movement wore suits and Sunday church apparel for just that reason. Later, the Black Panthers pioneered black clothes and natural hair to signify their fury with America's racist legacy, a look that has sprung anew among today's racial equality activists—Beyoncé paid homage to that iconic style in her "Formation" Super Bowl performance.
America has given rise to so many fashion styles that today, form the basis of our cultural identity. Rep. Alexandria Ocasio-Cortez rightly noted that she was a working-class woman of color at a tony event, but it's proof that this country wasn't built by the people who wore its fanciest clothes. It follows then, that the few instances of true, thoughtful Americana at the American-themed Met Gala were almost entirely from women of color. From Quannah Rose Chasinghorse in Indigenous turquoise jewelry to Gabrielle Union's powerful inspiration behind her Iris van Herpen dress, here's what brought the Met Gala's theme to life.