Natalie Portman Glistens in Archival Ombre Sequins at Cannes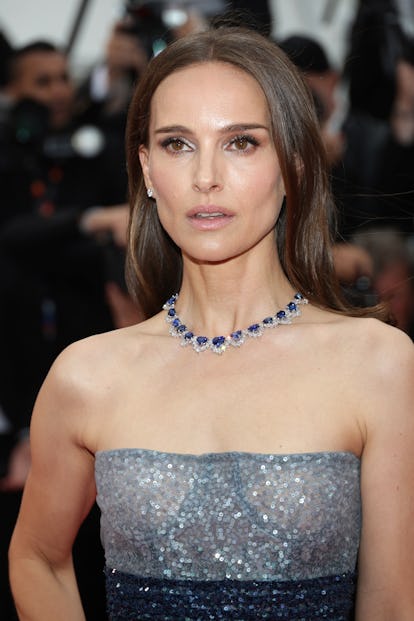 Pascal Le Segretain/Getty Images Entertainment/Getty Images
While the phrase "archival" may connote pieces from prior decades, Natalie Portman is making the case that the term can be used for more recent (and rare) styles—specifically those from six years ago. Attending the premiere of The Zone of Interest at the Cannes Film Festival, Portman dazzled in a strapless Dior gown from the brand's fall/winter 2017 collection.
While the runway version features branded straps, Portman decided to go without them for her premiere look (perhaps to accent the blinding Chopard jewels on her neck). The Dior piece's ombre sequins delicately fade from a pale to dark blue and are accented by a thin black belt at the waist. There is also an overlay of blue tulle placed on the skirt—a detail that looked especially stunning as the actress moved throughout the carpet.
This isn't Portman's first time wearing Dior at Cannes—in 2015 she wore a black and white haute couture ensemble. The same year, the actress sported a red halter column dress also from the French brand.
Portman stars alongside Julianne Moore in the film May December which is set to premiere at the festival this weekend. The 41-year-old plays the role of Elizabeth, an actress who travels to Maine to study Gracie Atherton-Yoo (played by Moore) for an upcoming role inspired by the latter's 20-year age difference with her husband (played by Riverdale alum Charles Melton). It's a plot bound to draw comparisons to the Mary Kay Letourneau scandal of the '90s.
"We didn't have any rehearsal time, and I knew that I was going to have to slowly morph into Julianne, and I didn't know what she was going to be doing—I had no idea," Portman explained about her role to The Hollywood Reporter. "I was like, "Is she going to do something that I can hold onto, that I can use, mimic?" And thank God she just came with this complete full concept of this person."