Nico Parker Is Quickly Becoming One of the Best Dressers in Young Hollywood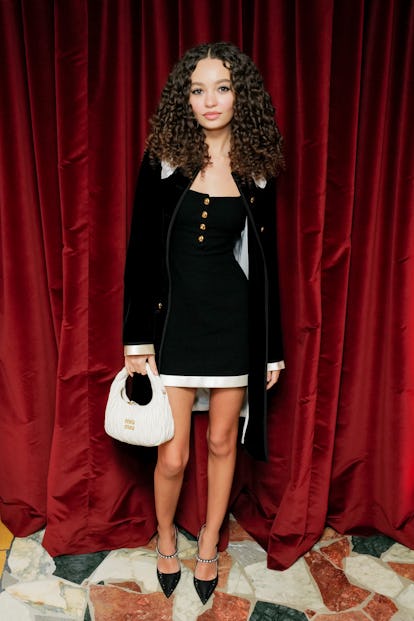 Nico Parker at a Miu Miu event in London February 15, 2023. Darren Gerrish/Getty Images
The world is Nico Parker's oyster. The daughter of actress Thandiwe Newton and the writer-director Ol Parker just turned 18, had a recent role on the HBO megahit The Last of Us, and apparently is on all the right invite lists in her native London. She's been out and about more and more as her profile continues to rise, providing more opportunities for the actress to stretch her wings style-wise.
Already, Parker has proven that she is able to dress up in high fashion pieces while still staying true to her age. On Thursday, the actress attended the UK Honors event at the Newport Beach Film Festival in a look from Dolce & Gabbana's fall 1996 collection, a mature mid-length dress with a form-fitting bodice made youthful by the cherry print covering the piece. Parker, who has been working with celebrity stylist, Rebecca Corbin-Murray, smartly opted to not wear any large pieces of jewelry or over-the-top makeup, and just wore her hair in her natural, gorgeous curls.
Parker and Corbin-Murray pulled out another great look for The Last Of Us premiere last month. The actress walked the red carpet at the event in a neon yellow Valentino creation, a low cut, belted dress with ruffled sleeves and a sheer chiffon skirt that ended in layers of fabric. While she wasn't posing with her dad on the red carpet, she was playing with the dress for the cameras, revealing a mini skirt in the same chiffon underneath.
Of course, these days when you have famous parents, that means you're inevitably going to be asked the dreaded "nepo baby" question in interviews. Luckily, Parker was prepared when The Cut came knocking on her door. The actress explained that while she understands why some might find the term "minimizing," she's aware of her immense privilege. "I think it's incredibly important to recognize that with your parents being prevalent in the industry, it's way easier to get in the room," she said. "It's so important to know how many people would dream of being in that room, and how lucky you are to be there...Especially when you start, your parents know people, and you've known people since you were small, and they want to give you a chance because they like you. That is a reflection of your parents." Style and smarts? It looks like we have a good one on our hands.