Nicole Kidman Wore Absolutely Nothing Under Her Chanel Suit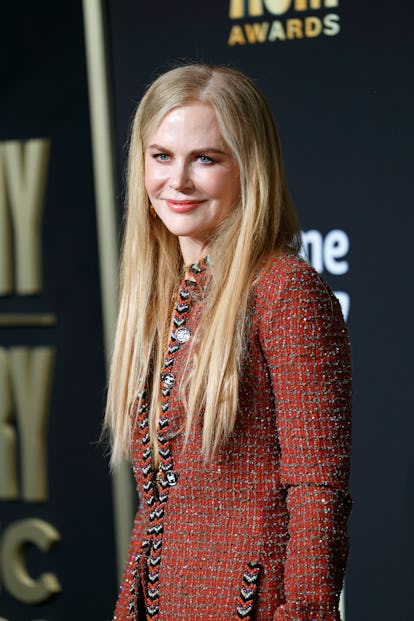 Jason Kempin/Getty Images Entertainment/Getty Images
It seems that Nicole Kidman has taken a course at the Kristen Stewart School for Wearing Chanel. No one is able to add a sexy and cool factor to the French brand's legacy pieces quite like Stewart, but on Thursday night, when Kidman joined her husband, Keith Urban, at the Academy of Country Music Awards, she managed to give the Spencer star a run for her money.
Kidman stepped out at the event, held at the Ford Center at The Star in Frisco, Texas, wearing a classic pre-fall 2023 Chanel suit. Made up of a sparkly red and brown tweed to achieve a terracotta hue, the suit featured boot-leg pants and a matching collarless jacket with a chevron trim. Underneath the jacket, Kidman wore absolutely nothing, aside from a handful of chain necklaces, a choice that most definitely added some intrigue to an otherwise classic look.
Kidman posed with Urban, who wore a look that mirrored Kidman's silhouette in a way. The musician showed off a similar amount of skin as his wife on the red carpet in a black suit with a low-cut black vest underneath.
This Chanel moment comes after another major one from Kidman earlier this month at the Met Gala. The actress arrived to the event wearing a couture gown originally designed for her by Karl Lagerfeld for the 2004 ad, "Chanel N. 5, the film." Kidman glided up the Met steps in the blush pink, sequin and ostrich feather-covered dress as she reminisced on the production of the piece, recalling "fitting it repeatedly" ahead of the filming. "I think my deep love of Karl came through this time together," she said on the carpet.