Sydney Sweeney Shines in Red Ahead of the Best Reviews of Her Career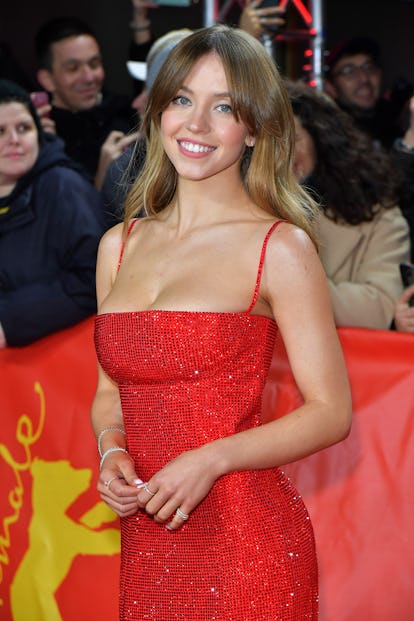 Dominique Charriau/WireImage/Getty Images
Sydney Sweeney is on a high. The actress had quite the weekend where she garnered wins both on the red carpet, and on the screen, not necessarily a rare occurrence for the 25-year-old, but a notable one.
On Saturday, Sweeney hit the red carpet for the premiere of her film, Reality, at the Berlin Film Festival. For the occasion, the actress tapped her go-to Miu Miu to design a custom dress. The result was a red, crystal-embroidered spaghetti strap number, simple, yet sparkling and glamorous. Sweeney's stylist, Molly Dickson kept the styling minimal, opting for bracelets and rings to decorate the actress' hands, but ditching a necklace, going natural with the makeup and focusing on accentuating her cheeks with blush, and styling her hair in loose waves.
Many on Twitter are calling the ensemble one of the best of Sweeney's red carpet tenure thus far. The look plays into the bombshell aesthetic, without aging her. In the past, she's risked fallen into a trap of either over-styling or going so simple to the point of boring, but this time, Sweeney and Dickson managed to strike the perfect balance.
It's fitting, then, that Sweeney accomplished a similar feat in her performance in Reality. The reviews are coming in following the premiere and critiques seem to unanimously agree the actress is unmissable as NSA whistle-blower Reality Winner. The Hollywood Reporter called her performance "expertly calibrated" and "a complete departure from her work on The White Lotus and Euphoria," while Variety characterized Sweeney as "revelatory." Not to say Sweeney hasn't been experiencing great highs since she came into our lives in Euphoria season one, but it seems like she's finally ready to enter the big leagues, both in terms of acting and dressing. The Oscars for last year's films haven't even been awarded yet, but is it too early to talk about who we'd like to see on the red carpet in 2024?