Zendaya Raided the Versace Archives Yet Again for the Perfect Red Carpet Dress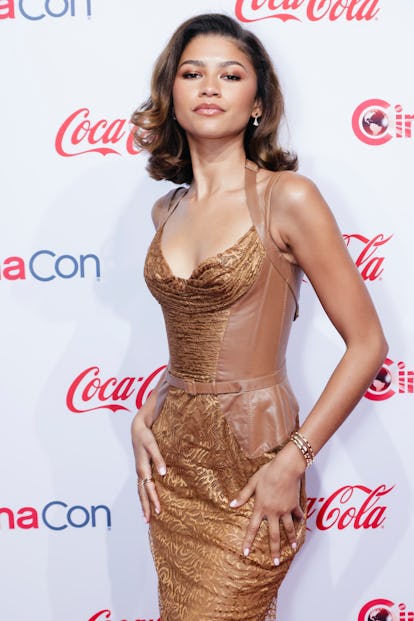 Greg Doherty/FilmMagic/Getty Images
Vintage Versace's moment is clearly not letting up. Not if Zendaya has anything to say about. The actress wore another archival look from the Italian house on Thursday night, once again raiding the archives to find her look for the CinemaCon's Big Screen Achievement Awards, where she was honored with quite the award.
"Thank you @donatella_versace for another special moment, been waiting to wear this one," Zendaya captioned a story on Instagram featuring a photo of Karolina Kurkova walking the Versace fall/winter 2001 show in the dress the actress had the privilege of wearing 22 years later. The piece in question is a monochromatic brown number featuring a cowl neckline, ruched bodice, and skirt in lace. Leather paneling and straps on the neck contrast the more romantic sections of the dress, but while the original piece featured a wide leather belt, Zendaya had it switched out for a much slimmer one.
Zendaya also cited Law Roach in her post, as he pulled and styled the dress for her. These days, a mention of Roach brings up questions, considering the stylist technically retired last month. While he did say he would continue working with the actress specifically, since Zendaya wrote she'd been "waiting to wear this one," it seems that she and Roach planned this long ago, pre-retirement.
The dress is the second vintage Versace look the actress has worn just this year, as she attended the NAACP Image Awards in February in a green and black gown from the brand's spring/summer 2002 couture collection. Roach and Zendaya have always loved pulling off a vintage moment, and Versace seems to be one of their favorite archives to raid.
The actress took the stage in the dress when she was honored with the night's Star of the Year Award. Zendaya took a moment to thank the National Association of Theater Owners, who put on the awards, as well as the entire CinemaCon event. "I'm so grateful for all of you because without all of you, what I do wouldn't have a home or place to go," she said. "I think my gift is storytelling. That's what I love to do, and it means nothing if those stories don't get to the people they need to get to." The actress continued, "In a theater, that's where someone can feel seen. That's where someone can feel less alone. That's when someone can escape. That's where someone can build a new dream. I have been witness to that and I've experienced it myself."
She went on to tell the story of her first date when she was just 15 and went to see Spider-Man in 3D. "Now I consider myself honored to be able to buy a ticket and sneak into the back of one of your theaters, which I've done many times before, and watch my own," she said. "And it's been so special because I get to watch what the movie going experience does for people. It's healing and it's magical and I feel so grateful to be a part of it."