Zendaya Traded in Her Couture Gowns For a Tiger-Print Suit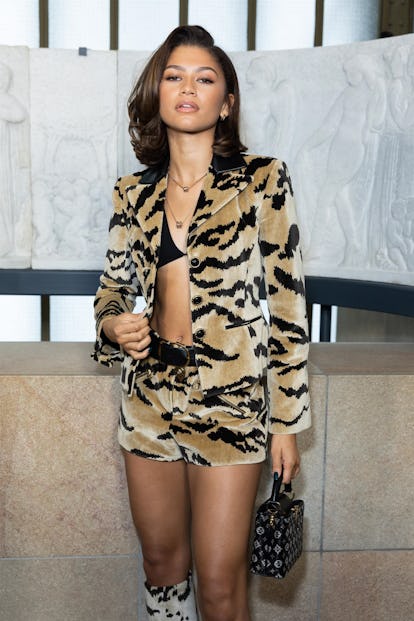 Best Image / BACKGRID
When you go through dresses as quickly as Zendaya, it's important to stay up to date with the latest collections. Just a week after showing off four show-stopping looks in one weekend, the actress hit Paris Fashion Week, likely to scope out her next headline-making red carpet dress. Of course, this is Zendaya we're talking about, so her look for Louis Vuitton fall/winter 2023 was a newsworthy moment in itself.
On Monday, Zendaya arrived at Paris' Musee d'Orsay for Nicolas Ghesquière's latest presentation. It was the only show the actress attended this fashion month, and her first since Valentino's spring 2023 show this past fall. In fact, Zendaya hasn't attended a LV show since their autumn/winter presentation in 2016.
Of course, the actress made the most of her return to the front row, arriving at the event in black and tan tiger print suit. The set featured a cropped jacket with black lapels and gold buttons as well as a pair of matching mini shorts. Underneath the jacket, the actress wore a simple black triangle bra, all the better since her knee-high boots matched the set in the same tiger print. Zendaya then accessorized the look with some layered necklaces and a mini black monogrammed top handle bag.
Zendaya was joined at the show by her stylist Law Roach. While there, the actress met up with Ghesquière, as well as Pharrell Williams, who was just named creative director of Louis Vuitton Mens. Otherwise, Zendaya kept a pretty low profile throughout the event, simply there to take in the latest collection as she likely considered how she's going to spend her allegedly new and improved Euphoria paycheck.