Zendaya Surprised Fans With a Red Carpet Appearance in India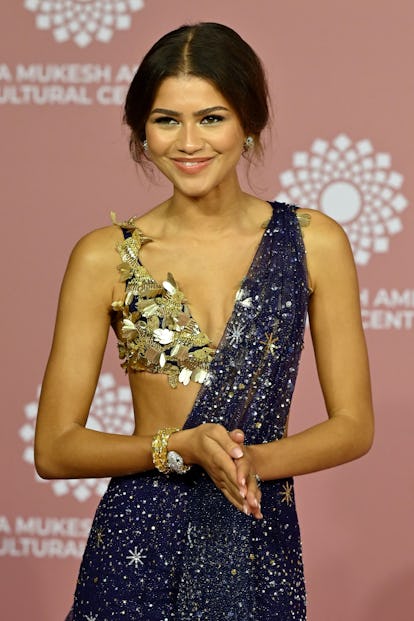 SUJIT JAISWAL/AFP/Getty Images
It's one thing to experience a Zendaya red carpet moment when we're expecting it—for major award shows, premieres for her projects, etc. But when the actress pops up almost out of nowhere in a draw-dropping dress, now that's a treat. And on Saturday night, when Zendaya showed up at the Nita Mukesh Ambani Cultural Centre (NMACC) Gala, many were not prepared, but the moment quickly spread across the Internet, and has already joined the pantheon of the actress' other great looks.
Zendaya arrived to the event in Mumbai, India in a bra top covered in whimsical golden appliqués under a crystal-embezzled midnight blue sari. The one-shouldered piece extended behind the actress into a long, sheer train decorated with embroidered flowers that matched the bottom of the skirt. Zendaya wore her hair pulled back, and opted for simple Bulgari jewelry aside from one statement piece, the brand's Serpentini bracelet.
Many looked immediately to Law Roach in order to give credit to the "image architect" for styling the look, but he quickly took to Instagram to inform the public that Zendaya's sari was both designed and styled by Indian designer Rahul Mishra. Roach, too wore a look designed and styled by Mishra, a black coat and skirt covered in an embroidered floral scene. A Bulgari Serpentini necklace completed his own ensemble.
The group was then rounded out by Zendaya's boyfriend, Tom Holland, who looked dapper in a black tux. The two turned the trip to India into a bit of a vacation, chartering a yacht on the Friday before the gala. When they attended the event together, however, they opted to walk seperately, upholding their preferred low profile around the relationship.