From Justin Bieber and Hailey Baldwin to Britney and K-Fed: 15 Celebrities Who Became Engaged Before Turning 25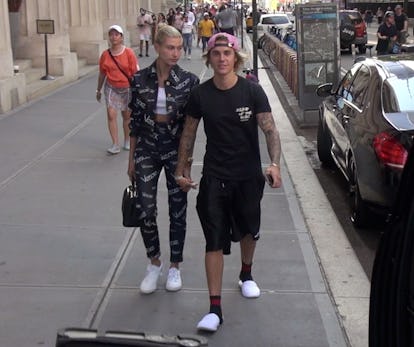 Photo courtesy of Getty Images.
Love knows no limits, especially for those of the celebrity variety. Plenty of A-listers have sealed the deal of their relationships with an engagement ring right after barely aging out of adolescence, and just because Ariana Grande and Pete Davidson, and subsequently Hailey Baldwin and Justin Bieber, have made it trendy this year to pop the question before turning 25, doesn't mean they were the first of their milieu to become engaged or married at such a young age. Kim Kardashian's first marriage took place when she was barely 19 years old, Patrick Dempsey married his acting coach—who was 26 years his senior—when he was just 21, and even Britney Spears once married her former childhood friend, Jason Allen Alexander, in Las Vegas for just 55 hours back in 2004 at the age of 23. These 15 couples attempted to put a ring on it before turning 25—and while not all of these engagements ended in marriages and only a handful of them may still be together, the photographic evidence of their young love will exist forever.