Love Letters to Michelle Obama, a Biography of Stevie Nicks, and the 8 Other Books to Read Right Now
November is a cornucopia of new books. Here are the 10 essential reads.
---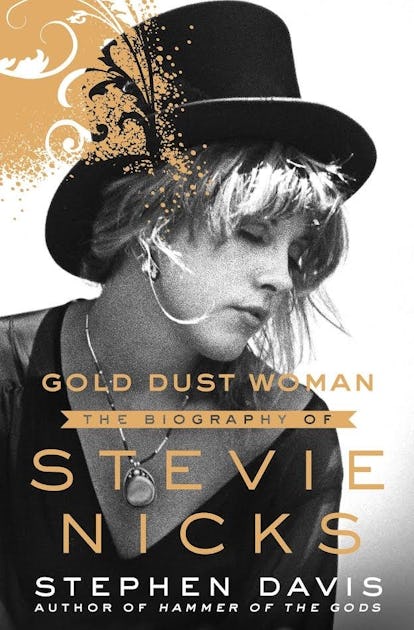 Now that Halloween has come and gone, it's time to treat yourself to a new bag of tricks—like a bag of books that will expand your mind into other dimensions. Think: personal essays ruminating on the kindheartedness of Michelle Obama, a debut novel by the mastermind behind Mad Men, a wild tale about a troublemaking young woman on the lam, and a bio about the witchiest one of them all, Stevie Nicks. It's enough sustenance to get you to Thanksgiving.
Michelle Obama, how we miss thee. This book helps, though. Published by Lena Dunham and Jenni Konner's Lenny imprint and edited by Nick Haramis, this anthology brings together a diverse roster of testimonials by a few of the women and men whose lives have been forever changed by the grace and courage of the former First Lady. You'll hear from feminist icons Chimamanda Ngozi Adichie and Gloria Steinem; presidential biographer Jon Meacham; actors Tracee Ellis Ross and Patton Oswalt; and two ninth-grade girls, among others. Praising everything from her "when they go low, we go high" speech to her unprecedented personal style, these essays underscore the fact that Michelle Obama is a woman whose example will continue to make the world a better place for years to come.
If you were reading MTV News before its unfortunate "pivot to video," then you most likely had the pleasure of reading poet, essayist, and cultural critic Hanif Abdurraqib. If not, thankfully, some of the best work he published there—including "We Can't Stop Livin': Listening to Marvin Gaye on the Morning After," which went live on the grim morning of November 9, 2016—is collected with newer cultural mediations in this selection of essays. Here, he writes about subjects like Chance the Rapper, Carly Rae Jepsen, and Bruce Springsteen, placing these stars and their songs squarely in the context of America's current narrative of unease. Read this, then listen back—you're sure to hear something new.
Yes, this book is authored by Mad Men creator Matthew Weiner, which is sure to draw in fans of his character-driven work. Unlike his TV show, with its slow burn and simmering subtext, this book should be considered a guilty pleasure—there's never anything wrong with a little sinister tale—and a quick one to breeze through at just 130 pages. The novel revolves around Heather, a mysterious and (obviously) beautiful young woman, her paranoid upper-crust Manhattan parents, and a dangerous psychopath who enters her life. Leave it to Weiner to derail a picture-perfect family.
Catalina ****by Liska Jacobs (Nov 7)
Liska Jacobs's debut novel is proof that for every night of wild debauchery, there is a hangover waiting for you on the other side. Our anti-hero is Elsa Fisher, who has just been fired from MoMA after having an affair with her married boss. She's soon riding a wave of prescription pills and booze back to the West Coast, where she decides to reconnect with her old college gang on a trip to Catalina Island. Cue: more booze, pills, and lustful betrayal. It's only a matter of time before relationships deteriorate, leaving Elsa to realize the mess she's made of her life. And unfortunately for her travel buddies, she's not going down alone. File under: reads that will make your Thanksgiving travel fly by.
This is an astonishingly gorgeous book by ocean scientist Juli Berwald, who dedicated herself to chasing down and studying jellyfish from all over the world for over five years. It's part investigation and part memoir, written in an attempt to figure out how these slow-to-evolve gelatinous blobs fit into the ocean's ecosystem (jellies are 95% water) and what it was about these seemingly innocuous creatures that led Berwald back into the sea after a hiatus to become a mom in Austin. Science enthusiasts, curious animal lovers, and those who want to educate themselves more on climate change's effect on our oceans will find this book irresistible.
It seems like in the age of self-care, everyone is dealing with some level of anxiety. But Caroline Foran is here to tell readers that whether you find yourself bursting into tears on the daily, or experiencing mental roadblocks more than usual, there are ways to identify and change your lifestyle to better suit the stressors that are eating away at your brain. She would know, as an everyday woman who has once let her anxiety define her life. Devoid of any boring, professional healthcare jargon, Foran lays out baby steps you can take to ease yourself into a less anxiety-filled world.
Mean by Myriam Gurba (Nov 14)
Myriam Gurba's voice is a refreshing burst of honesty, poetry, and spectacularly dark humor. In Mean, described as a "nonfiction novel," Gurba recounts her experiences growing up as a queer, mixed-race Chicana in California. (Where "What are you?" is a question often asked.) Through casually beautiful and often untraditional prose, Gurba makes sense of the sometimes-painful world around her. She observes the division of race and class in her elementary school, she watches her younger sister slip into teenage anorexia, she gets acquainted with the effects of weed and alcohol. Through her unpredictable style, Gurba offers a welcomed antidote to the formula of the contemporary novel.
In her debut book of poems reflecting upon life as a Chinese-American young woman, Carlina Duan puts very concise words to her complications with family dynamics, beauty standards, expectations that may never be met, and more. It's rather straightforward and uncomplicated reading, but one with nuanced undertones once the words settle in. Self-identity crises knows no cultural bounds, even if personal experiences differ.
The late James Salter, who died in 2015 at the age of 90, lived quite the life. He served in the Air Force, traveled the world, wrote Hollywood scripts, and eventually, released novels like The Hunters and A Sport and a Pastime that would come to define his literary career. In Don't Save Anything, essays that Salter had originally written for The New Yorker, Esquire, Conde Nast Traveler, and others have been collected to celebrate a man's life that was well-lived, and as it turns out, well-documented as well.
Famous for his biographies of Led Zeppelin and Aerosmith, author Stephen Davis devotes over 300 pages to national treasure Stevie Nicks's journey from a powerful force in Fleetwood Mac to solo artist to ever-present cult figure of the internet generation. Davis chronicles Nicks's Fleetwood Mac origins, her famous affairs within the Los Angeles rock scene, her years-long addiction to Klonopin, her 1998 induction into the Rock and Roll Hall of Fame, her influence on today's up-and-coming artists, and more. It's a portrait of a woman who's loved and lived harder than most—and has the songs to prove it.
Warren Beatty hasn't read any of the books about him "because they're fiction!":