2016 Summer Olympics: Fencer Dagmara Wozniak Defines Girl Power
"I just hated being told you can't do something because I'm a girl," the 27-year-old fencer said before this year's summer games.
---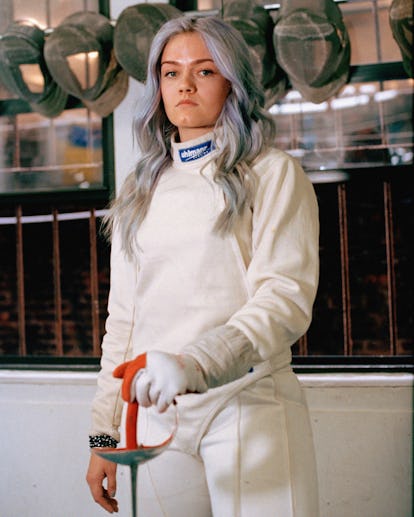 "I was such a tomboy growing up and would fight with boys in the streets to stand up for myself. Sometimes I started the fights, but nothing was ever too crazy," said fencer Dagmara Wozniak, 27. "I just hated being told you can't do something because I'm a girl." There are few people who want to pick a fight with Wozniak these days—the Polish native, who currently trains at New York's Manhattan Fencing Center, is one of the top saber fencers in the world right now. This summer, she's headed to Rio (her second time at the Olympics) as part of a powerhouse saber team with strong hopes of returning home with gold. Here, she talks about how she first got into the sport (finally a place where she could hit other people and not get yelled at), her lucky charms, and the book that keeps her inspired.
When did you first start training and then competing? I started training when I was about nine years old. Before I fenced, I tried gymnastics, karate, and even tennis, but it didn't stick. Karate was the longest commitment but then the club moved away and I didn't follow. My dad took me to a fencing class at a Polish recreational center since he was familiar with the sport. In Europe, fencing is incredibly popular, much more so than in America. I was born in Poland but my family (parents and older sister, Zuzanna) immigrated to the United when I was only 1-year-old. My dad knew the sport and its rich culture and history so he thought why not give it a shot? I could practice the Polish language, while embracing our cultural roots.
What originally attracted you to the sport? The best thing about fencing was that I could hit other kids and not get in trouble! I was such a tomboy growing up and would fight with boys in the streets to stand up for myself. Sometimes I started the fights but nothing was ever too crazy. I just hated being told you can't do something because I'm a girl.
What was your first major victory that made you think you might be good at it? My first accomplishment that made me think I might actually be good was winning two junior World Cups back-to-back. First, in Italy, and then in Germany. I was even the top-ranked junior at a certain point and to me, seeing my name at the top of the list was absolutely surreal.
How many hours per day do you spend training, on average? It depends, but generally 16-19 hours a week at fencing practice. You'll find me everyday in the gym in addition to that for another hour or two. I love being physical and pushing my body past limits. You have to endure pain to demonstrate and seize true potential.
Do you have any good luck charms or something you always bring with you when you compete? I have a collection of bracelets that I have with me but I don't always wear all of them. It's a reminder of the people that believe in me no matter what the result or performance is. One of them is a Tiffany's bracelet that I got from my club for making the '08 team. It was such a beautiful and thoughtful gift especially, with the engraved message. My sister gave me a brass bracelet that says, "Know in your heart all is possible"…enough said. My coach also gives me bracelets that have energy and there is much secrecy to them so I can't fill you in on it, sorry! My best friend Niki recently gave me a Team U.S.A. Alex and Ani bracelet with a motivational message attached. Now, when I look down and I see this collection, I see what I am fighting for, what I stand for, and what I represent.
What's your pre-competition ritual? I like to listen to a playlist that pumps me up! Before the match, I take three deeps breaths and focus on the opponent in front of me.
What songs/artists do you like to listen to as you train? I like songs that move me. It could be one line in a love song that I can relate to not giving up or fighting harder. My random playlist consists of Major Lazer, Dillon Francis, Skrillex, Drake, Future, Ellie Goulding—anything with a good beat.
What's always in your gym bag? I always have Quest bars (white chocolate raspberry) and BioSteel powder for mixing in my water. I have tons of hair and I'm always doing weird things to it, with the help of my best friend who is a hair stylist in Hoboken. I'm obsessed with Moroccan Oil products, especially the dry shampoo for lighter tones and it smells amazing. My life is all about fitness and being healthy so I like reading about new trends and new exercises that come out.
What's been most challenging to you as you train for Rio? Recently, I had an injury that put me out for some time. However, I still qualified and am back to training harder than ever. An injury can be the most upsetting (and catastrophic) thing to happen right before a big tournament like the Olympics, but I took it as a blessing in disguise. The injury made me slow down, which is something I've never known how to do or really even tried to do. My mindset was always quantity over quality. Now the quality really matters since it's getting so close, but I'm not panicking. I read Ronda Rousey's book Your Fight right before I got injured and like her, I tried to focus on making my weaknesses my strengths and keeping my minding a positive mindset.
Olympian you are most excited to meet? I took a photo with Serena Williams one time in London but it would be sick to have a chit-chat with one of the greatest female athletes out there. She's so strong and powerful and does what she wants. I respect that tremendously.
Who will you call first if you win in Rio? My sister! She won't be able to make it since she just had a baby.
What will you do first if you win in Rio? Run and hug my coach Yury (if I don't pass out first). He's dedicated so much time and effort working with me. He's always been like a father figure to me and I owe him everything. Then I'm going to turn around and run and hug my parents, husband, best friends, and family that will be in the stands.
To learn more about all Olympic hopefuls, visit teamusa.org. The Olympics begin August 5 on NBC.