Half As Many People Watched the 2017 VMAs as the Game of Thrones Finale
MTV's post-aughts TV bread and butter continued its downward spiral.
---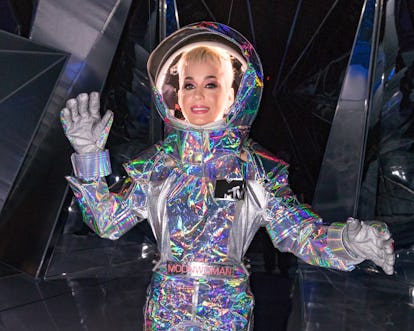 Christopher Polk/MTV1617/Getty Images
In case there was any doubt as to this year's dominant cultural force, the 2017 VMAs ratings offers some insight. Last night, MTV's post-aughts TV bread and butter continued its downward spiral, drawing in a mere 6 million total linear viewers, Variety reports. That number was half a million less than 2016's installment of the show and, most notably, half of the ratings Games of Throne amassed. The season 7 finale of the HBO mega-hit series drew in a whopping 12.1 million linear viewers, which is a spike from the 8.9 million it saw during last season's finale.
The gap between the two primetime television events is significant. And, it's not just because of the numbers but also because awards shows are best digested in real-time — where, these days, every standout moment is near-impossible to miss on social media — while in a post-streaming world TV series are more often consumed after they first air. In this case, far more people cared about a recorded show they could watch on demand rather than a live event characteristically packed with the kinds of GIF-worthy celeb exchanges that require the full context of witnessing them unfold.
This year, however, had blatantly less of those under a new direction from first-time host Katy Perry. In fact, one of the biggest GIF'd moments of the night was only notable in that it was a non-moment: When Lena Dunham's boyfriend, .fun frontman, and Taylor Swift collaborator Jack Antonoff was captured eating a banana.
Still, MTV at least had one win for the evening. While their linear viewers sharply declined, the network picked up a whole new crop of younger viewers aged 12 to 24, Variety reports — which is one thing Game of Thrones didn't manage to do. While Game of Thrones had Jon Snow and Daenerys Targaryen reaching peak sexual tension, the 2017 VMAs — which did not draw some of the bigger names in music from Beyoncé to Kanye West and Rihanna to Drake — had performances from Fifth Harmony, Lorde, Ed Sheeran and Lil Uzi Vert. The teens know what the teens want.
MTV VMAs 2017: See What Everyone Wore to the After Parties
Millie Bobby Brown attends n:PHILANTHROPY Sponsors Republic Records' VMA After Party 2017 at TAO at the Dream Hotel on August 27, 2017 in Los Angeles, California.

Getty
Hailee Steinfeld attends the VMA after party hosted by Republic Records and Cadillac at TAO restaurant at the Dream Hotel on August 27, 2017 in Los Angeles, California.

Getty
Eiza Gonzales attends the VMA after party hosted by Republic Records and Cadillac at TAO restaurant at the Dream Hotel on August 27, 2017 in Los Angeles, California.

Getty
Jessie J attends the VMA after party hosted by Republic Records and Cadillac at TAO restaurant at the Dream Hotel on August 27, 2017 in Los Angeles, California.

Getty
Justine Skye attends the VMA after party hosted by Republic Records and Cadillac at TAO restaurant at the Dream Hotel on August 27, 2017 in Los Angeles, California.

Getty
Cole Whittle, Joe Jonas, JinJoo Lee, and Jack Lawless of DNCE attend the VMA after party hosted by Republic Records and Cadillac at TAO restaurant at the Dream Hotel on August 27, 2017 in Los Angeles, California.

Getty
Sofia Carson attends the VMA after party hosted by Republic Records and Cadillac at TAO restaurant at the Dream Hotel on August 27, 2017 in Los Angeles, California.

Getty
Serayah attends the VMA after party hosted by Republic Records and Cadillac at TAO restaurant at the Dream Hotel on August 27, 2017 in Los Angeles, California.

Getty
Grace Mitchell attends the VMA after party hosted by Republic Records and Cadillac at TAO restaurant at the Dream Hotel on August 27, 2017 in Los Angeles, California.

Getty
Cameron Dallas attends the VMA after party hosted by Republic Records and Cadillac at TAO restaurant at the Dream Hotel on August 27, 2017 in Los Angeles, California.

Getty
Chantel Jeffries attends the VMA after party hosted by Republic Records and Cadillac at TAO restaurant at the Dream Hotel on August 27, 2017 in Los Angeles, California.

Getty
Julia Michaels attends the VMA after party hosted by Republic Records and Cadillac at TAO restaurant at the Dream Hotel on August 27, 2017 in Los Angeles, California.

Getty
Tove Lo attends the VMA after party hosted by Republic Records and Cadillac at TAO restaurant at the Dream Hotel on August 27, 2017 in Los Angeles, California.

Getty
Delilah Belle Hamlin and Amelia Gray Hamlin attend n:PHILANTHROPY Sponsors Republic Records' VMA After Party 2017 at TAO at the Dream Hotel on August 27, 2017 in Los Angeles, California.

Getty
Jared Leto attends a MTV VMA Post Party hosted by Calvin Harris and Emil Nava with TIDAL x Sprint at the Highlight Room at the Dream Hollywood on August 27, 2017 in Hollywood, California.

Getty
Hailey Baldwin attends the VMA after party hosted by Republic Records and Cadillac at TAO restaurant at the Dream Hotel on August 27, 2017 in Los Angeles, California.

Getty
Andrew Taggart and Alex Pall of The Chainsmokers attend a Calvin Harris and Emil Nava MTV VMA Post Party with TIDAL x Sprint at the Highlight Room at the Dream Hollywood on August 27, 2017 in Hollywood, California.

Getty
Nina Dobrev attends a Calvin Harris and Emil Nava MTV VMA Post Party with TIDAL x Sprint at the Highlight Room at the Dream Hollywood on August 27, 2017 in Hollywood, California.

Getty
Christina Milian attends a Calvin Harris and Emil Nava MTV VMA Post Party with TIDAL x Sprint at the Highlight Room at the Dream Hollywood on August 27, 2017 in Hollywood, California.

Getty
Jasmine Sanders at UGG x Jeremy Scott Collaboration Launch Event at The h.wood Group's 'Poppy' on August 27, 2017 in West Hollywood, California. (Photo by John Sciulli/Getty Images for UGG)

John Sciulli
Adwoa Aboah at UGG x Jeremy Scott Collaboration Launch Event at The h.wood Group's 'Poppy' on August 27, 2017 in West Hollywood, California.

John Sciulli
Katy Perry at UGG x Jeremy Scott Collaboration Launch Event at The h.wood Group's 'Poppy' on August 27, 2017 in West Hollywood, California. (Photo by John Sciulli/Getty Images for UGG)

John Sciulli
Sasha Lane at UGG x Jeremy Scott Collaboration Launch Event at The h.wood Group's 'Poppy' on August 27, 2017 in West Hollywood, California. (Photo by John Sciulli/Getty Images for UGG)

John Sciulli
Caroline D'Amore and Paris Jackson at UGG x Jeremy Scott Collaboration Launch Event at The h.wood Group's 'Poppy' on August 27, 2017 in West Hollywood, California. (Photo by John Sciulli/Getty Images for UGG)

John Sciulli
Watch: Kit Harington Auditioned for "Game of Thrones" With a Black Eye