Hugh Grant Has a Gay Affair with Ben Whishaw in A Very English Scandal Trailer
"I was rude, I was vile, I was queer, I was myself."
---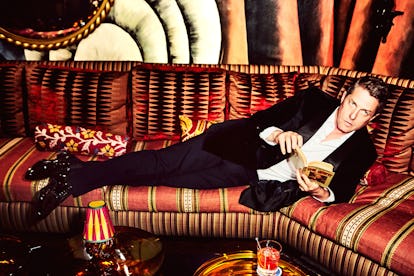 Photographs by Ellen von Unwerth, Styled by Robert Rabensteiner
A Very English Scandal, is, indeed, very, very British. It is also, as Ben Whishaw's character (who has an affair with Hugh Grant's character) declares, a bit "rude," "vile," and "queer," but in a good, celebratory way.
The three-part BBC miniseries is based on a real-life gay sex scandal that absolutely shook the British public back in the 1970s. Grant plays Jeremy Thorpe, a member of the British Parliament and the son of a well-known conservative political family who decides to align himself with the fledgling liberal party and quickly works his way up the ranks to become its leader. Through all of this, and despite being married, Thorpe also carries on a secret gay life. Before his political ascendance, he becomes involved with a young ex-model named Norman Scott (Whishaw's character). It gets very messy, as these things tend to do (just ask Donald Trump and Stormy Daniels), and years later, Scott threatens to go public with his story. Thorpe, of course, has some Michael Cohen-like figure in his life, but instead of deciding to pay off Scott, there is a plot hatched to have him murdered. It's still unclear if the physical part of the affair actually happened and how involved Thorpe was in the murder plot, but, nevertheless, the whole thing wound up going public and effectively ended Thorpe's political career.
Whatever really happened, the miniseries promises to give you the Hugh Grant and Ben Whishaw action you may, or may not, have realized you wanted. Whishaw, of course, is an openly gay actor, but, for the record, this is not Grant's first time playing a gay character. Grant's breakthrough role was the 1987 film Maurice, in which he plays another uppercrust Brit trying to keep his homosexual tendencies firmly in the closet. So, in a way, it's a bit of a full circle moment for Grant.
Aside from Grant and Whishaw (who have both won BAFTAs), the creative team behind the projects are also BAFTA-winning British legends. The very British director Stephen Frears, known for The Queen, Victoria & Abdul, and My Beautiful Launderette, is helming all three episodes. Meanwhile, very British TV writer Russell T. Davies wrote the script. Davies not only redeveloped Dr. Who for a new generation, he also created the original British Queer As Folk. The supporting cast also includes Monica Dolan and Alex Jennings.
A Very English Scandall premieres in Britain on the BBC this month. Americans will get to watch it when it comes to Amazon Prime later this year.
Related: Hugh Grant Reportedly Welcomed His Fifth Child at 57 Years Old, According to Ex Elizabeth Hurley
Hugh Grant: A Dashing Leading Man in His Bespoke Finest
Ermenegildo Zegna Made to Measure jacket, vest, shirt, trousers, and tie; Santoni shoes; his own studs.

Photographs by Ellen von Unwerth, Styled by Robert Rabensteiner
Hugh Grant wears a Prada Made to Measure coat, vest, shirt, and pants.

Photographs by Ellen von Unwerth, Styled by Robert Rabensteiner
Brioni by Justin O'Shea waistcoat, shirt, and trousers.

Photographs by Ellen von Unwerth, Styled by Robert Rabensteiner
Thom Browne. New York jacket, shirt, tie, tie bar, and pocket square.

Photographs by Ellen von Unwerth, Styled by Robert Rabensteiner
Hermès jacket and sweater.

Photographs by Ellen von Unwerth, Styled by Robert Rabensteiner
Kiton jacket, shirt, and pants.

Photographs by Ellen von Unwerth, Styled by Robert Rabensteiner
Photographs by Ellen von Unwerth, Styled by Robert Rabensteiner
Boss Made to Measure tuxedo and shirt; Boss tie and pocket square.

Photographs by Ellen von Unwerth, Styled by Robert Rabensteiner; Grooming by Petra Nina Sellge for Kiehl's and Bumble and Bumble; Photography Assistants: Stan Rey-Grange, Charlie Ryan; Digital technician: Ryan O'Toole; Fashion Assistant: Youngjin Kim; prop and set styling: Beatrice Hurst; taxidermy supplied by londontaxidermy.com; Production by Lucy Watson Productions; Special thanks to LouLou's. London