Basel's Last Blowout
Solange and Lenny, flowing Dom Pérignon and a very indulgent crowd at Aby Rosen's annual party during Art Basel Miami Beach.
---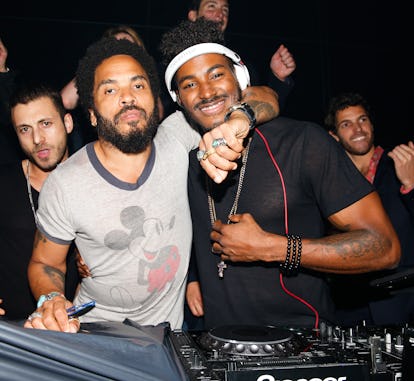 "What up, Aby Rosen?"
Early on Friday morning at the crowded Miami Beach hotspot The Wall, a DJ named Ruckus shouted those words into his microphone, as if Rosen was a household name. On any other night, when this venue is packed with the slick, flashy peacocks and their scantily-clad girlfriends who regularly make up Miami's nightlife scene, the name might have fallen on deaf ears.
But on this night, even with some famous personalities like Solange Knowles, Lenny Kravitz and Alex Rodriguez in the house, Rosen was the biggest macher in the room, not only the proprietor of the venue – indeed, the entire hotel around it, The W – but also the host of the very last event of consequence, the last gasp of the weeklong marathon known as Art Basel Miami Beach. Proper recognition was in order.
Every year, Rosen, and his wife Samantha Boardman, convene all the movers and shakers in town for a ritual powwow at the Dutch, the restaurant just besides The Wall at his hotel, to parse and high-five each other about the week drawing to a close. Inevitably, they are all very pleased with themselves.
"It went off without a hitch!" the dealer Jeffrey Deitch said of his Unrealism, joint show with Larry Gagosian at the Moore building, which featured a parade by the artist Rashaad Newsome. "I could hardly top Miley," he continued modestly, referring to the even more raucous concert he staged last year with the pop star. Nothing like that boondoggle happened this year – the celebrity wattage was dimmed low, more on the level of Katie Holmes and Paris Hilton, both in attendance at Chez Rosen.
In a rare moment of acknowledging life outside the bubble of the fair, Knowles told the crowd from her perch in the club's DJ booth, "Honestly, anybody who's at Basel this weekend, we're all very privileged to be here in light of what's happening in the world right now." And then Kravitz played his cover of "American Woman" and it was back to clinking Dom Pérignon. It was only 2 a.m., after all.
With none of the excess of years past, Rosen could justifiably lay claim to writing the unofficial coda to the week. The fair's remaining days would be left to the less sexy business of checking out the art on display. Après moi le déluge, or something.
Photos: Basel's Last Blowout
Solange Knowles. Photo by BFA.
Alex Rodriguez and Veronica Miele Beard. Photo by BFA.
Katie Holmes. Photo by Getty Images.
Lenny Kravitz and DJ Ruckus. Photo by BFA.
Peter Brant Jr., Paris Hilton, Gaia Matisse, and Brandon Davis. Photo by BFA.
Aby Rosen and Samantha Boardman. Photo by Getty Images.
Shanina Shaik. Photo by BFA.
Jeffrey Deitch and China Chow. Photo by Getty Images.
Kristen McMenamy. Photo by BFA.
Pierpaolo Piccioli and Maria Grazia Chiuri. Photo by BFA.
Giovanna Battaglia. Photo by BFA.
Tommy Hilfiger and Dee Hilfiger. Photo by BFA.
Bob Colacello and Laura de Gunzburg. Photo by BFA.
Rocky Barnes. Photo by BFA.
Vito Schnabel and DJ Ruckus. Photo by BFA.
Stacey Bendet Eisner and Yvonne Force Villareal. Photo by BFA.
Jean Pigozzi. Photo by BFA.
Michael Chow and Eva Chow. Photo by Getty Images.