How Adriana Lima, Bella Hadid, and Other Top Models Train For the Victoria's Secret Fashion Show
Here, a closer look at how Victoria's Secret Angels have been getting in shape for the Victoria's Secret Fashion Show.
---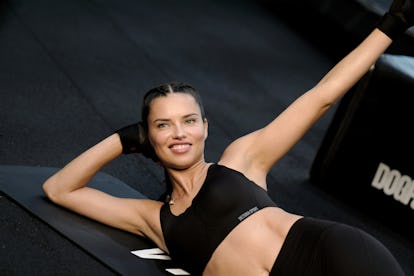 Dimitrios Kambouris
With the highly anticipated Victoria's Secret Fashion Show taking place in Shanghai, China this year only a few days away, our favorite Angels have been hard at work at gym, proving that even with their killer genes, a quick tone-up is vital before hitting the runway. As the crew of supermodels get in their last minute workouts, and dutifully post their gym selfies on Instagram, we are provided a glimpse into how to officially train like an Angel. Of course, taking into consideration their sporty, Victoria's Secret Sport-branded attire styled, sleek top knots, and radiant skin, the already genetically blessed make a trip to the gym look a lot more effortless than a mere mortal's sweaty, red-faced counterpart.
Want to emulate some of their moves? Take it from fashion show veterans Adriana Lima and Alessandra Ambrosio, who both have walked in over a dozen shows and whose cardio-filled sessions are filled with high intensity workouts like jump roping and boxing. Josephine Skriver and Jasmine Tookes also opt for heaving weightlifting and toning workouts, while model Lais Riberio—who will wear the coveted fantasy bra this year, estimated at a cool $2 million—shared a more playful approach to burning calorie, posting a playful wrestling video with her son. And for those Angels who prefer a less strenuous routine, take it from models Stella Maxwell and Sara Sampaio whose mixture of pilates and yoga make for the ultimate stretch, while still working to tone muscles and elongate the body.. And Gigi Hadid may no longer be partaking in the festivities this year, her little sister Bella is certainly not slouching in her own preparation from the event, posting countless glimpses inside her workout, showcasing her enviable abs, and, oddly enough, plenty of smiles. Here, a closer look at how to how these Angels get their physique ready before the big day..
Related: Adriana Lima Reveals How She's Physically Preparing to Walk in Her 18th Victoria's Secret Fashion Show
How to Take a Selfie Like a Supermodel